Our family homeschool experience is back in 2023! Join us May 8–12, 2023, for faith-building experiences for the whole family as we equip generations for the King with programming available at both the Creation Museum and the Ark Encounter.
Walk through biblical history at the museum (including our brand-new, expanded Fearfully & Wonderfully Made exhibit), soak in practical, biblical teaching from popular speakers, enjoy hands-on, engaging science and Bible programs for the whole family (available for additional cost), shop from our vast array of resources, tour the full-size Noah's Ark, meet the animals in Ararat Ridge Zoo during live animal programs, ride the carousel, take the kids to our world-class playgrounds, and watch the kids' eyes open in wonder as they learn more about God's creation and the Creator!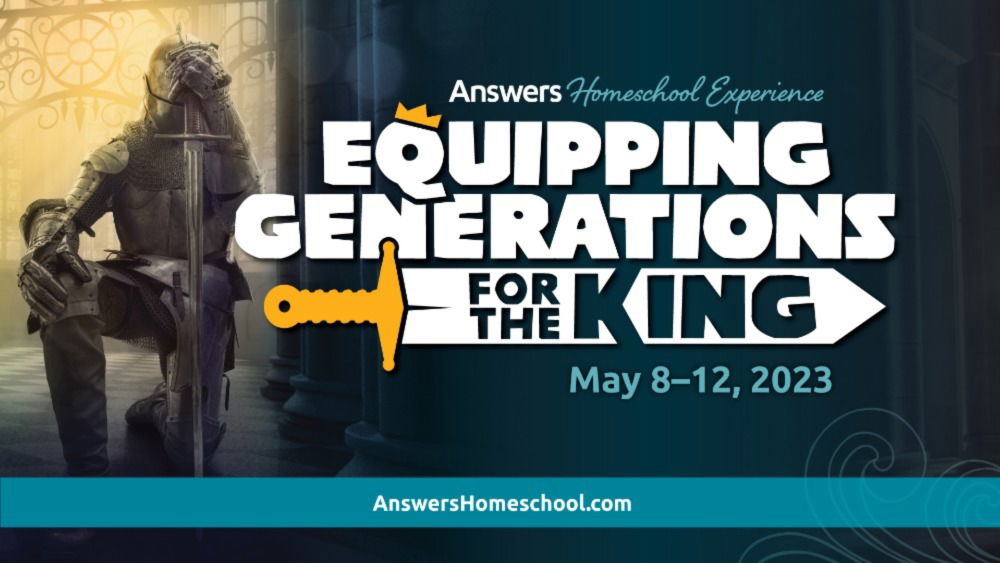 Our 2023 speakers include Heidi St. John, Ken Ham, Alex Kendrick, and many more. We've designed our Answers Homeschool Experience to help you better disciple and educate your children, encourage you in your homeschooling journey, equip your children with answers to the questions of our day, and build lasting family memories while you have fun together. In other words, we want to equip generations to stand for the King of all kings!
What Are Families Saying?
If you are a homeschooling family, you won't want to miss this unique experience. But don't just take it from us! Here is what families had to say after last year's event:
"What a fantastic event! I thank God for your growing ministry!"
"It's been such an incredible week—the most meaningful and impactful family vacation and homeschool experience we've ever had. Our hearts are so very full and ignited with greater boldness! Thank you for providing this opportunity!"
"Best homeschool conference! Thank you. We left feeling empowered and encouraged! Can't wait for next year!"
"This has been a fabulous experience! And each and every workshop, tour, and session has pointed us back to God. It's truly a blessing to be here as a family this week. Thank you!"
Register Early to Reserve Your Spot
Last year's homeschool experience sold out twice, so be sure to register early, so you don't miss out! Subscribe to our Conferences & Events Newsletter to be the first to hear when registration opens.