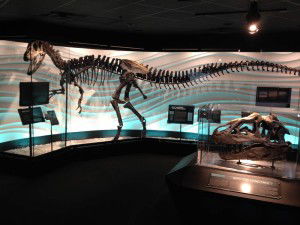 In light of the popularity of our latest acquisition, Ken Ham, the founder and CEO of Answers in Genesis, will be speaking at 3:00 PM, Saturday, May 31, at the Creation Museum. His presentation is titled "Dinosaurs for the Family."  For years, Ken had hoped to obtain a world-class dinosaur fossil for the museum but had been held back because excellent skeletons were cost prohibitive. Now, thanks to the Elizabeth Streb Peroutka Foundation, the Creation Museum has an
Allosaurus
skeleton valued at one million dollars!
A recent blogger asked his readers to take the "Creation Museum Challenge." He displayed three pictures and wanted his readers to see if they could pick out the dinosaur display at the Creation Museum. Obviously, our $1.5-million exhibit was just too impressive for anybody to guess that it was ours!
Come see the new exhibit, "Facing the Allosaurus," and hear Ken deliver his talk.