Special Presentation at the Creation Museum with Dan "The Animal Man" Breeding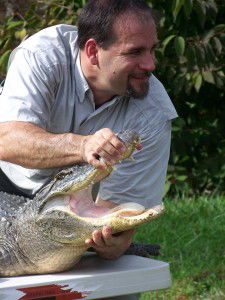 Dan "The Animal Man" Breeding will be making a special appearance at the Creation Museum, where he will present his "Creatures of Creation" program.
Dan has mande numerous television appearances on programs like Hannity and Colmes, Good Morning America, Live with Regis and Kelly, CBS Weekend Show, and many others. He has also served as one of the lead animal trainers for three feature films, and he has made an appearance at the White House with his animals.
As stated on his website, wildanimalencounters.com, Dan began working with animals at the age of thirteen on a farm in Illinois. He worked with livestock such as cattle, sheep, hogs, and a few horses. He is a graduate of the Moorpark College Exotic Animal Training and Management Program in Ventura, California.
Upon graduating from the Exotic Animal Program he began an apprenticeship under an ape trainer at Going Ape in Auburn, California. He maintained and cared for fourteen chimpanzees and one orangutan. During this time Dan also volunteered at a non-profit organization called Wild Things, Wildlife Assemblies. He also occasionally freelanced for Animals In Action of Los Angeles, where he gained experience with an African elephant, a Bengal tiger, and a pygmy hippopotamus.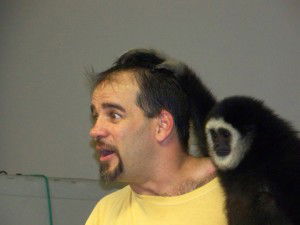 Before the birth of Wild Animal Encounters, Inc. Dan worked for a short time at Silver Springs Attractions. During this time he assisted in the catch-up and relocation of twenty-five crocodilians representing eleven species. He also worked with several species of raptors, including a bald and a golden eagle.
Dan now resides with wife Debbie and three children, Taylor, Rachel, and Logan in Raleigh, North Carolina, where he also runs a Christian wildlife outreach called Creatures of Creation.
Seating is limited, so we recommend calling our Customer Service line at (800) 778-3390 to reserve your tickets for this remarkable program. Tickets are $2 with museum admission (maximum charge of $10 per household). Program begins at 2:00 PM.
Yesterday's Photo: St. George and the Dragon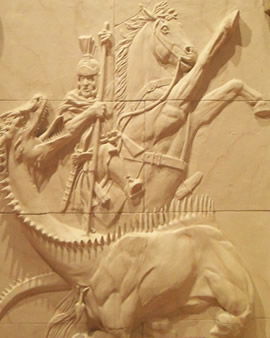 The legend of St. George, usually adorned in the Middle Ages, was recorded around AD 1260 in The Golden Legend, a book about early saints. The story is much older, however, originally taking place during the turn of the fourth century. According to the account, George, a knight from Cappadocia, Turkey, passed through a city in Libya, Africa. There he met a princess on her way to be  sacrificed to a dragon who was terrorizing the land. She bid George to depart, but instead he went ahead and defeated the dragon and brought it bound into the city.
George then told the people to believe in Christ and be baptized. In turn, George promised that he would slay the dragon before them. Fifteen thousand men, not counting families, were baptized into the church, and the dragon was beheaded. The story goes on to record the terrible persecution Christians suffered at the hand of Emperor Diocletian. George sold all he had and gave up his knighthood to preach against the false gods of the Romans. He was taken to prison, tortured, and later beheaded for this faith on April 23, 303.
About the Sculpture
The St. George and the Dragon sculpture was first sculpted as a 1/4 scale model in clay, then scanned into the CNC (Computer Numerical Control) computer, which created a 3D negative mold. Hydracal plaster was poured into the mold and, after curing, was installed in pieces. St. George needed a good bit of detailing and a light marble faux-finish to make it complete.
Today's Pic
The aquarium in the Main Hall is home to several turtles who like to warm up underneath the spotlights.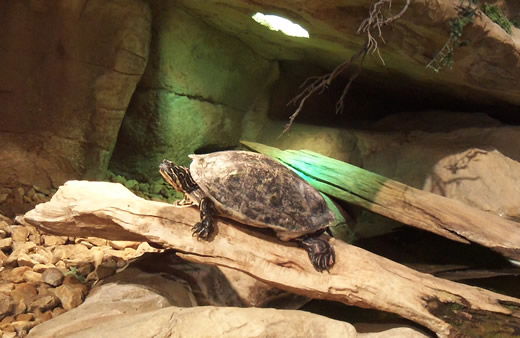 Tuesday on the Dig Site
Buddy Davis and his team of dinosaur fossil diggers are in Glendive, Montana, where they just finished their first day on the site. Here are a few pics from yesterday...