The "Hub" of Activity
We continually hear comments about how you cannot possibly see everything in the Creation Museum in just one visit. The Main Hall offers a remarkable first look at the quality of content and design at the museum—there's a lot to be seen in this area!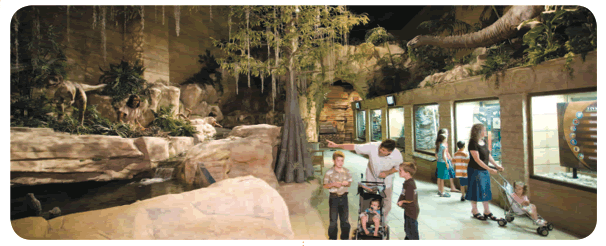 About the Main Hall
This space was originally designed to be the lobby for the museum, but after several "behind the scenes" events during the construction of the facility, we soon realized that we needed a much larger area for ticket sales, an information desk, and queuing areas. Before the ribbon was cut for the grand opening, we expanded the size of the building by enclosing what we now call the "Portico" area and placing the ticket counter and information desk there.
The Main Hall now serves as a "staging area" for the Dragon Hall Bookstore, Stargazers Planetarium, Noah's Café, Special Effects Theater, and the main museum walk-through biblical history.

Burning Tree Mastodon
Since the summer of 2009, the Main Hall has been the home of a cast of the Burning Tree Mastodon. This mastodon was discovered nearly twenty years ago when the owner of the Burning Tree Golf Course in Newark, Ohio, decided to expand a lake on his course. In the process of enlarging the lake, a backhoe got caught on some large bones. After more bones were found, a team was called in to conduct a detailed excavation. It turned out to be one of the most complete mastodon skeletons found to date! Discover Magazine named it one of the top 50 science discoveries of 1990. It is the third largest mastodon ever found, and its gut contained eight species of live bacteria once thought to be extinct! Additionally, flint markings were found on its ribs, indicating the hunters of this enormous creature were skillful enough to kill and butcher the 10,000-pound animal.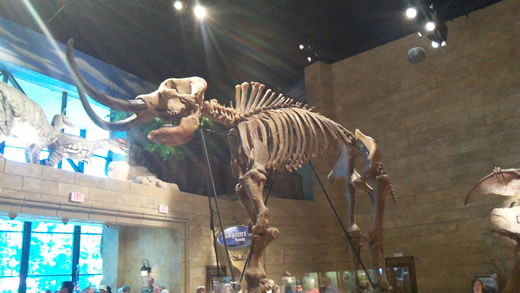 The Creation Museum's
Buddy Davis
lives within an hour of the site where the mastodon was found. When he went to see the skeleton, the paleontologist who restored the original and made casts of the bones traded one of the casts for some of Buddy's dinosaur models. (Many of Buddy's dinosaur models can be found lurking around the museum!) Buddy later donated the cast to the museum.
There's a lot more to see in the Main Hall. Be sure to check back with us as we continue our trek around the Creation Museum!