Christmas is a time when many people reflect on their favorite memories from years past and the traditions shared with their family during this special time of the year. Our staff members at the Creation Museum are no exception. As we prepare for our ninth annual Christmas Town event, we asked some of our staff members about their favorite memories from past years. Here are five of their favorite memories from past Christmas Town events.
Christmas Town Preparations
Christmas Town preparations begin as early as August to give our staff plenty of time to make sure everything is done for the event. Hanging the lights isn't the only task that gets an early start.
Christmas Town is always a busy time for the petting zoo staff. We begin preparations for Christmas Town in early fall. We not only hang lights on all of our buildings but we also start walking the animals that participate in the nativity around the grounds to get them used to walking around cars and other scary things like storm drains!

On Christmas Town days, you will notice several activities occurring if you visit the zoo later in the afternoon. One of the camels, the steer, donkey, and some sheep will all be headed up to the front of the museum, and we will also be doing our evening feeding and cleaning while getting the other camel ready for camel rides. Christmas Town days are always very busy for the zoo staff, but we enjoy the atmosphere and beauty of Christmas Town just as much as our guests do!

–Leanne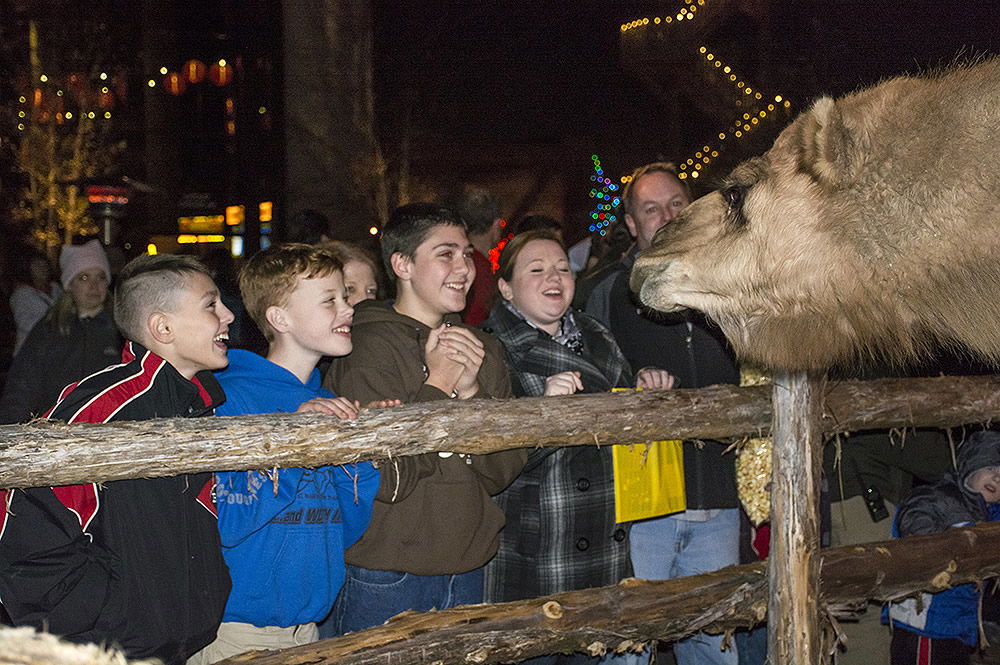 International Reach
Guests from all over the world visit the Creation Museum, and some guests have even used Christmas Town as an opportunity to share the experience and character performances (such as the Magi) with their family members in other countries.
Once I saw a man pointing his cell phone camera as I spoke. It was not unusual to see cell phones pointed at me, but he was being very deliberate and meticulous. Later that evening I recognized the gentleman in the museum. We greeted each other and then he said, with a rather thick accent, "I hope you don't mind but I was skyping your presentation to my mother. They just don't have anything like this where she lives." I asked him where she lives. I was surprised to hear that my Magi performance had been seen in Holland.

–Tom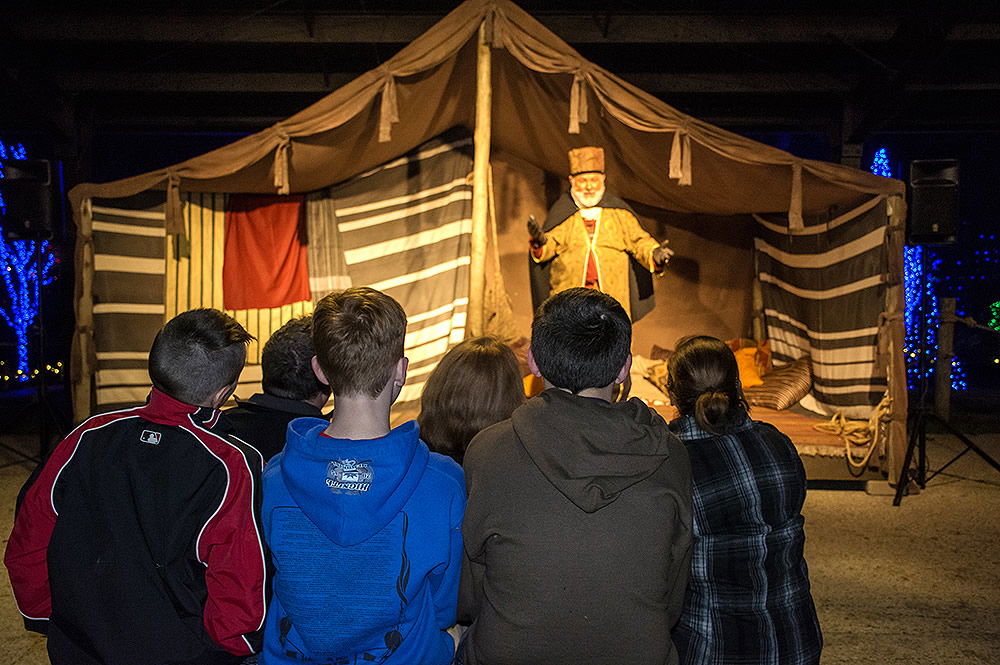 Children's Responses
Several staff members' favorite memories include seeing how children respond to the sights and sounds around them. Christmas Town helps bring the true Christmas account to life for our guests.
For several years, I played one of the shepherds who encountered the angels announcing Jesus' birth. Our role was to help people make the leap from just being observers to being participants in it. It was especially gratifying when I got to see children respond in wonder as they got a taste of another time and culture through their interactions with us. We got to help them get past the "story" to see the reality of the history behind Christmas.

–Brad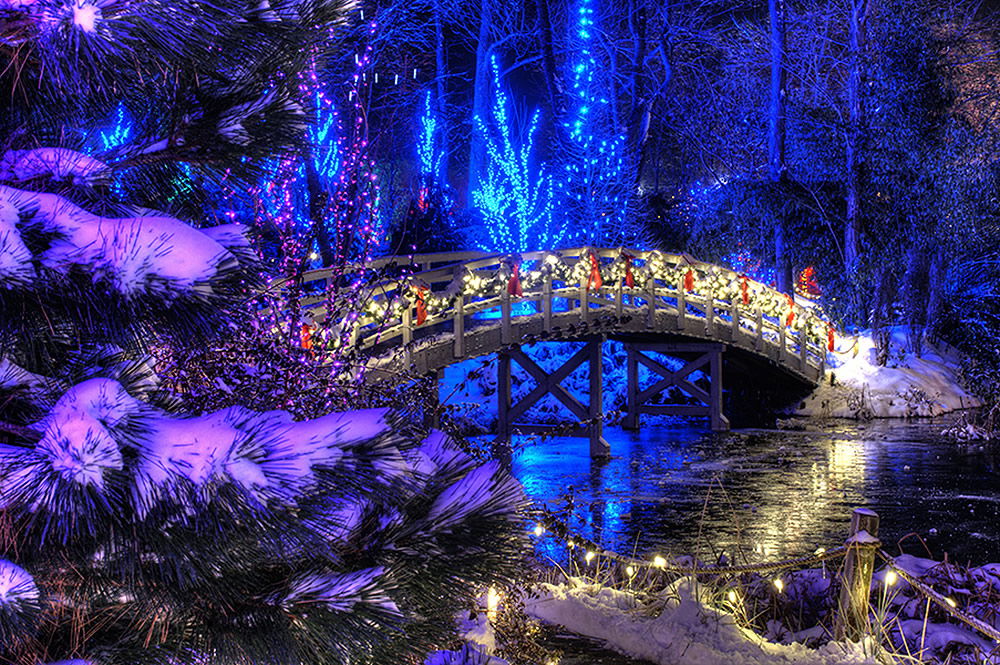 Guests Interactions
As thousands of guests visit the Creation Museum during Christmas Town each year, interacting with visitors has created memorable moments for our staff members. Whether our staff members are working in guest services or as a roaming character, Christmas Town presents many opportunities for guest interactions.
Roaming around talking to small groups of people has been such a huge blessing to me that I never would have imagined. I can still see the eyes of the wee little ones with their mouths open listening intensely to my account of what I saw at the temple [while performing as Anna]. Their little hands reaching out and touching me to see if I was real. The little girl that came running back to give me a hug. . . . We had made a connection. The young women with tattoos and piercings all over her . . . she was listening so intently. Later she told me that she had never heard these things before. You could see that she was thinking about what she had heard. The women and, yes, even the men that cried as they listened as they were reminded of what our God has done for them. Their hope was remembered through the accounts of biblical people whom God has used: the Magi, Simeon, Elisabeth/Zachary, the shepherds, the Roman guards, and best of all Joseph and Mary. To see the tears in so many eyes blessed my heart beyond my imagination.

–Vickie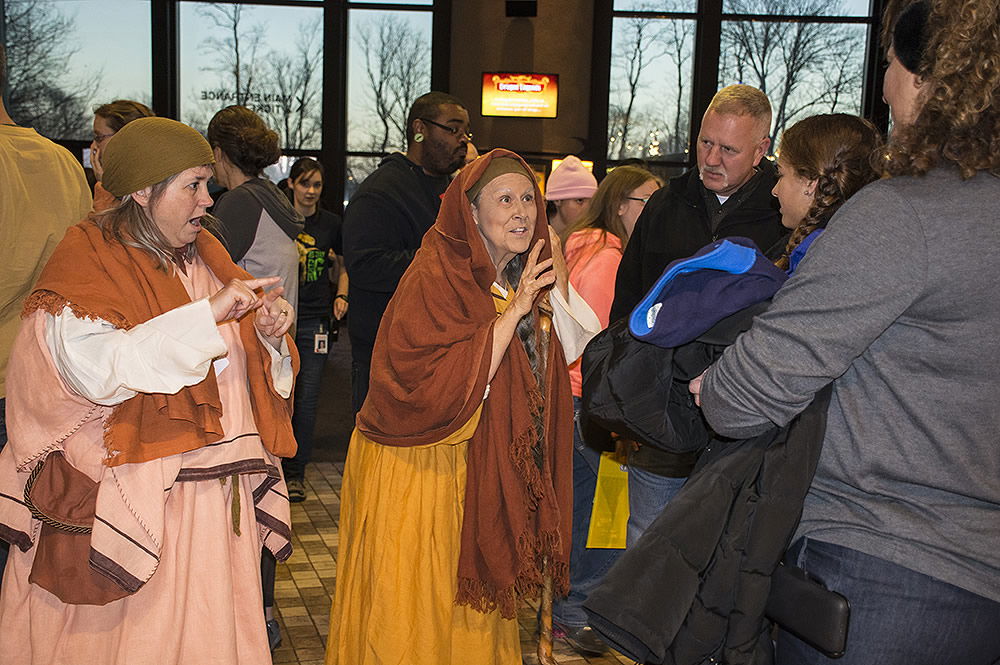 Celebrating Together
Most fond Christmas memories reflect on the joy of coming together with our family, friends, and other believers to celebrate the birth of Jesus Christ.
My favorite memory was everyone [the actors and actresses] coming together at the end of the night to celebrate Christmas Town together in a special way, rejoicing that so many people were able to experience it with us.

–Kaitlyn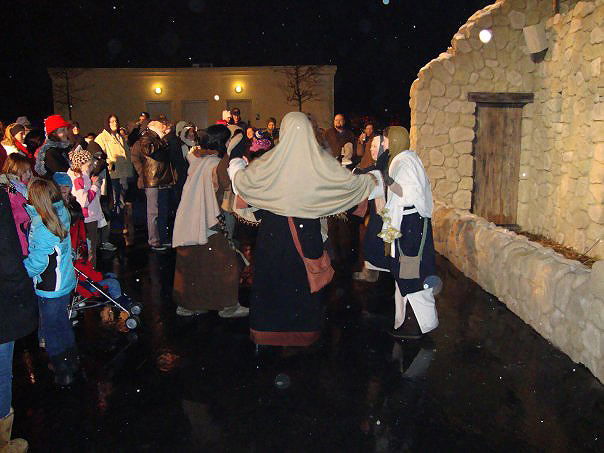 We look forward to seeing your family as you make your own memories at this year's Christmas Town. Start planning your trip now to take advantage of all that this event has to offer! Share your favorite Christmas Town pictures and memories with us on Facebook, Instagram, and Twitter using #creationmuseum.