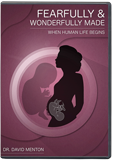 You can order the Fearfully & Wonderfully Made DVD through the online store of our parent ministry, Answers in Genesis.
Have you ever marveled over a newborn child? We stand in awe at the detail of their tiny features, fingers, and toes. As we consider the miracle of life, we may ask, "When does life begin?" Discover what the embryological development of the human body tells us about our Creator. You will have a new appreciation for Psalm 139:14, "I praise you, for I am fearfully and wonderfully made. Wonderful are your works; my soul knows it very well."
In this video presentation, Dr. Menton explains the development of an infant from the embryo to birth. Explore the amazing sequence of fertilization, implantation, development of the placenta, and finally the birth process itself.
This presentation is free with paid museum admission or museum membership. Seating is first come, first served.