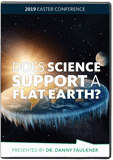 You can order the Does Science Support a Flat Earth? DVD through the online store of our parent ministry, Answers in Genesis.
Many individuals, including some Christians, are falling for flat earth ideas. Does science support such an idea? Does the Bible teach a flat earth? Discover the history of science on the shape of the earth, how the flat earth movement emerged, what observational science reveals, and what the Bible itself teaches in this fascinating presentation. Discover the truth about this increasingly contentious topic from a world-class astronomer.
Discover answers and a strategy for sharing the gospel in an increasingly secular culture. Recorded at the Ark Encounter during our popular Answering Atheists 2019 Easter conference.
This presentation is free with paid museum admission or museum membership. Seating is first come, first served.