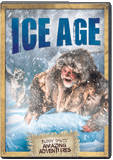 You can order Buddy's new Amazing Adventure DVD through the online store of our parent ministry, Answers in Genesis.
Have you ever wondered about the Ice Age and where it actually fits in history? Join Buddy as he walks on top of glaciers, kayaks among icebergs, and learns about animals that lived during the Ice Age. He will also introduce you to some animals associated with the Ice Age that are still alive today.
Our starting point is the Bible when looking at the exciting events in our planet's past. Discover how the Ice Age is the result of Noah's Flood and how amazing events caused it to happen.
Run Time: 25 minutes
This presentation is free with paid museum admission or museum membership. Seating is first come, first served.