Overview of Circle Garden
Located by the main entrance to the Creation Museum, the "Circle Garden" has a distinct circle shape, although the name derives from the original grass circle that was in its place when the museum first opened. As attendance kept going up, more guest entry space was needed, so this grass circle was filled in with blacktop, and trees in planters with flowers were added along the road.
Some years later, as part of our continual care and improvement of the gardens, an extensive upgrade was planned to add all the warmth and beauty of the different plants that you see today. Some details that may seem arbitrary are not.
For example, the Dura Heat birch along the glass windows of Dragon Hall has several valuable characteristics. During the occasional windstorms that we receive in Kentucky, the branches are light and thin enough that damage to the building or glass is less likely. Another valuable characteristic is described by the name Dura Heat. This variety endures the heat of the sun better than others, which is beneficial as the reflection off the windows increases the heat exposure on the tree.
The abundance of flowers is also sure to delight you as you stroll through this garden on your way to the Creation Museum.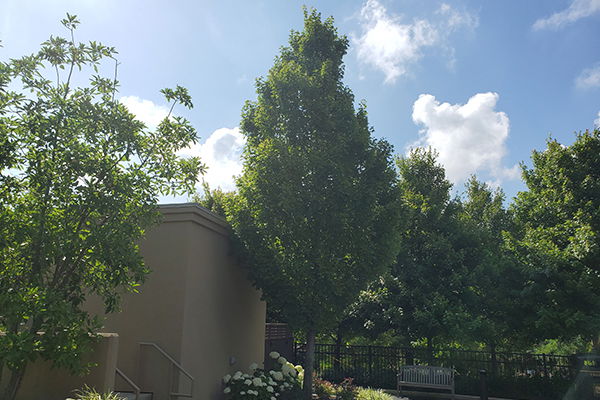 Columnar Norway Maple
Common Name: Columnar Norway Maple
Botanical Name: Acer plantanoides
Height: 40–60 feet
Spread: 15–20 feet
Location: Full sun to part shade
Bloom: April; greenish-yellow flower
Hardiness zone 4–7
This maple tree that grows into a column shape known as "Columnar" has a faster growth rate than some other varieties of maple. It will grow very tall but only spread 15 to 20 feet, which may make it a perfect choice for that smaller spot in your garden. You can see our example of this plant in the Circle Garden beside the restroom. It is in a fairly small bed with plenty of room to grow tall but not wide. You will also enjoy the yellow fall leaf color typical for the Norway Maple family of plants.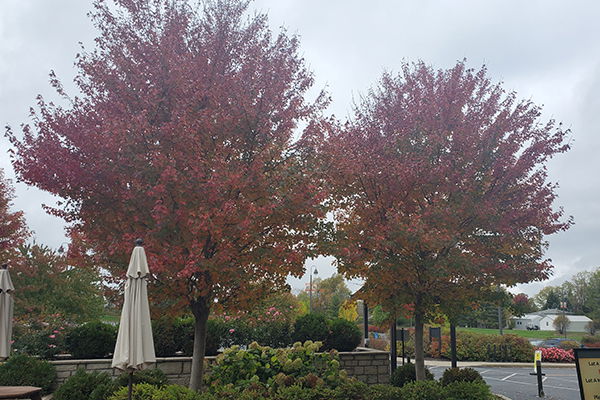 Redpointe Maple
Common Name: Redpointe Maple
Botanical Name: Acer rubrum
Height: 40–45 feet
Spread: 30 feet
Location: Full sun to part shade
Bloom: March to April; red, small flower
Hardiness zone 4–8
Redpointe maple is a newer variety of the many red maple trees also known as "rubrum." It was introduced in 2006 and has a uniform growth habit with a straight main trunk. It also has a natural teardrop shape with leaves turning a deep-red color early in the fall, starting at the top point. This is where the name is derived. Tolerant of many soil types, this variety is growing in popularity and becoming more available in commerce.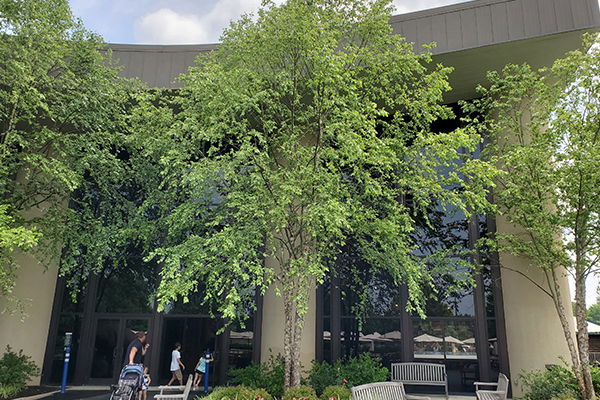 Dura Heat River Birch
Common Name: Dura Heat River Birch
Botanical Name: Betula nigra
Height: 30–40 feet
Spread: 25–35 feet
Location: Full sun to part shade
Bloom: April to May; brownish-green catkins
Hardiness zone 4–9
As the name implies, the Dura Heat birch endures heat a little better than some of the other birch varieties available. It features creamy, white bark and a dark, glossy-green leaf that turns yellow, adding fall color to any garden. It grows as a single stem or a multi-stem plant, such as the one we have in the Circle Garden at the Creation Museum. It normally grows to a 30- to 40-foot height, so this may be a good choice for you if height is a concern.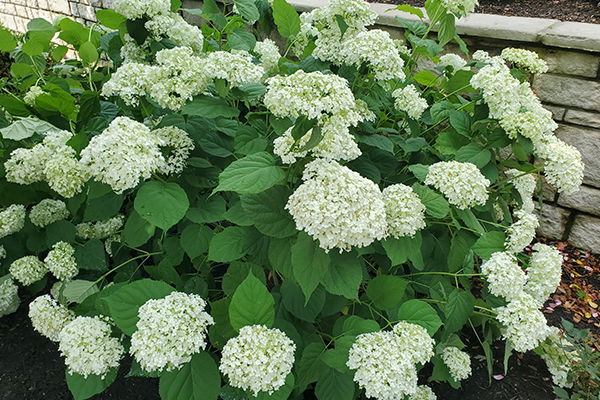 Incrediball Hydrangea
Common Name: Incrediball Hydrangea
Botanical Name: Hydrangea arborescens
Height: 4–5 feet
Spread: 4–5 feet
Location: Part shade
Bloom: June to August; white flower
Hardiness zone 3–9
Incrediball is in the Hydrangea arborescens variety known as "Smooth Hydrangea." The recommended plant location is listed as in part shade, although the plant may produce larger blooms in full sun with a consistent eye on water. They do not like to dry out, as the name Hydrangea implies, since "Hydor" means water. The stems are stronger than the close relative Annabelle normally holding the large, up to 12-inch flower head upright. We cut ours to the ground at the end of fall and receive many blooms on the new growth in the spring, which is always an eye-catcher.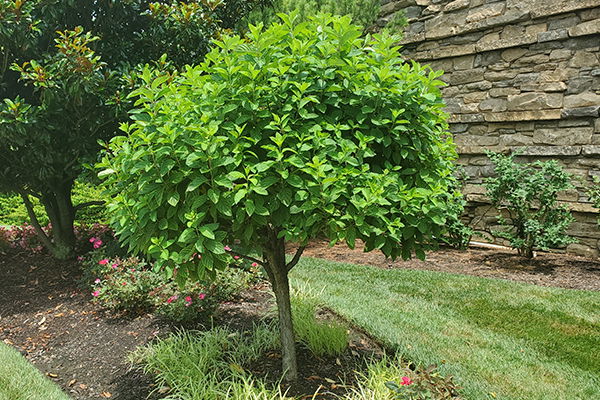 Tardiva
Common Name: Tardiva
Botanical Name: Hydrangea paniculate
Height: 8–12 feet
Spread: 7–10 feet
Location: Full sun to part shade
Bloom: July to September; white flower
Hardiness zone 3–8
Our Tardiva was trained to grow into a tree form from a young age with the primary plant grafted atop a "standard," which is a single-tree rootstock. It has many of the same growth habits as a shrub form, including the same showy, white flowers that appear in July then slowly turn a pinkish color with age. This is an easy-to-grow and easy-care "feature" plant, or it can be a companion plant that gives you more height while requiring less space than the shrub version of the same plant.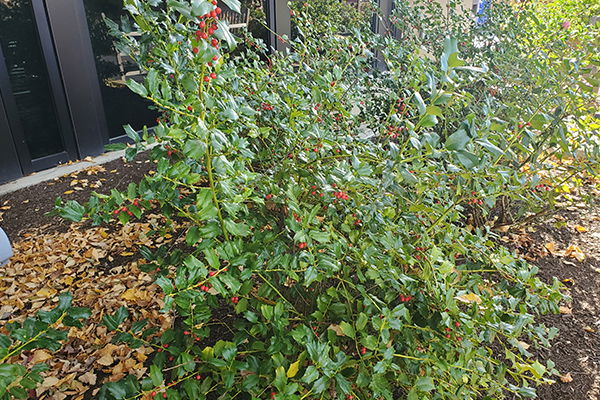 China Girl Holly
Common Name: China Girl Holly
Botanical Name: Ilex mesog
Height: 7–10 feet
Spread: 5–8 feet
Location: Full sun to part shade
Bloom: April to May; white flower
Hardiness zone 4–9
China Girl is a popular evergreen shrub that has a very dense and rounded growth habit. Shiny, dark green leaves stay on the plant year-round, making it a great foundational plant for any landscape. Red berries appear in the fall and persist into the winter, adding seasonal color. China Holly is dioecious, which means that you will also need to plant a China Boy as a pollinator to have the berries on the China Girl. One China Boy will usually pollinate most residential-sized landscapes. This is a hardy, disease-resistant plant, but you will need to watch for some unwanted insects, including scales, and treat as needed.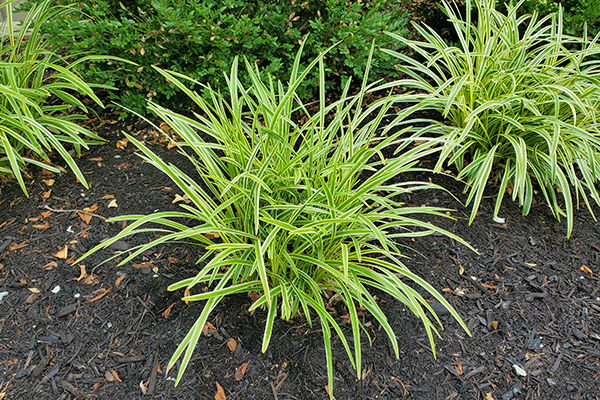 Variegated Lilyturf
Common Name: Variegated Lilyturf
Botanical Name: Liriope muscari "Variegata"
Height: 1–1.5 feet
Spread: 1–2 feet
Location: Full sun to part shade
Bloom: August; purple flower
Hardiness zone 5–10
We love Liriope as a border plant, but we also use it in groupings throughout the Botanical Gardens. Be careful to read the growth habits for your Liriope before planting. Our variegated variety "Muscari Variegate" grows in clumps increasing in size every year. Our solid-green variety, "Big Blue," is a ground-covering plant and will take over an area that you may not want. They look very similar in the pot when you purchase, so we suggest reading before planting as with all plants. Both types of Liriope have violet-purple flowers in late summer, giving way to black berries that persist into the winter. Both are perennials, so we cut them all the way back in the winter every year, and they return in the spring with new growth.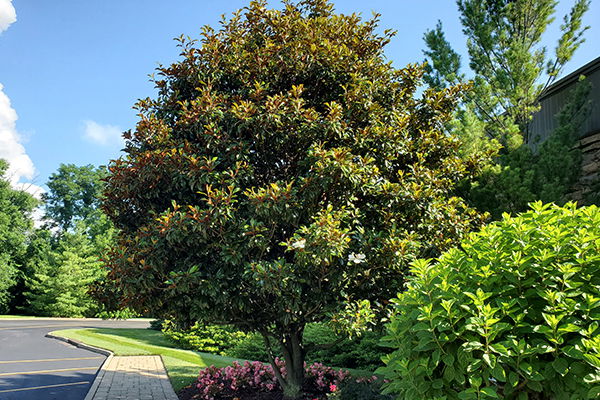 Bracken's Brown Beauty Magnolia
Common Name: Bracken's Brown Beauty Magnolia
Botanical Name: Magnolia grandiflora
Height: 20–30 feet
Spread: 15–25 feet
Location: Full sun to part shade
Bloom: May to June; white flower
Hardiness zone 5–9
The southern magnolia will grow in Kentucky, but we are at the northern portion of its climate range. You may want to choose a spot with some wind protection in your garden if you plant one. The Bracken's Brown leathery leaf is shiny on the top and brown on the bottom, giving it a bi-color, tropical appearance. The late-spring, white flowers give way to cone-like clusters that release seeds in late summer.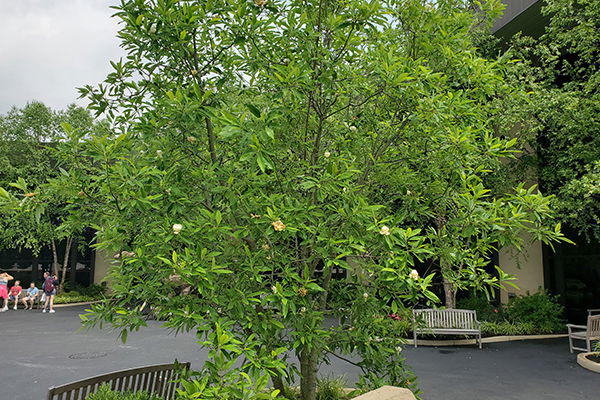 Sweetbay Magnolia
Common Name: Sweetbay Magnolia
Botanical Name: Magnolia virginiana
Height: 10–35 feet
Spread: 10–35 feet
Location: Full sun to part shade
Bloom: May to June; white flower
Hardiness zone 5–10
The smooth gray bark and dark-green leaves of the Sweetbay magnolia make a great color contrast to add to any garden area. The creamy, white flowers appear in May but can also bloom sporadically throughout the summer. The fruit development will follow in late fall, developing an oval shape that, when mature, splits open to show bright red seeds. This is a somewhat tropical-looking plant that not only grows in warmer climates but also grows in hardiness zone 5.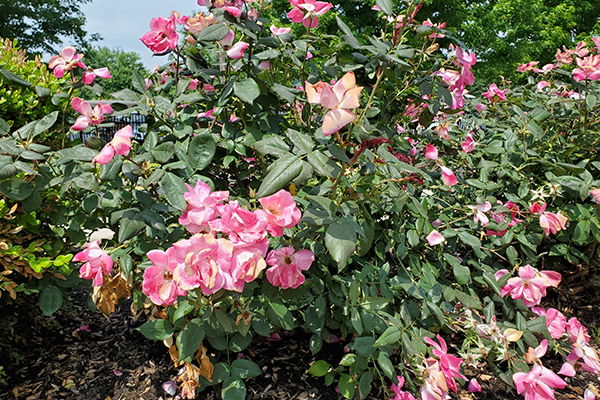 Radrazz Knockout Rose
Common Name: Radrazz Knockout Rose
Botanical Name: Rosa x "Radrazz"
Height: 3–4 feet
Spread: 3–4 feet
Location: Full sun to part shade
Bloom: June to Frost; cherry red
Hardiness zone 5–11
The Radrazz is the original member of the knockout family and is still one of the best performers of the group. It is resistant, although not impervious, to the standard diseases making it require little care compared to other roses. We cut the Botanical Garden's two-thirds back in the early spring, and they flush out with new growth and new color every year. The color lasts all summer until the first frost, making this rose an easy pick for your garden.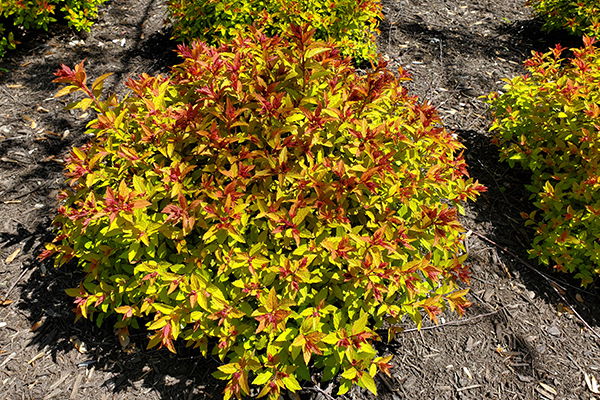 Magic Carpet Japanese Spirea
Common Name: Magic Carpet Japanese Spirea
Botanical Name: Spirea japonica
Height: 1–2 feet
Spread: 2–3 feet
Location: Full sun
Bloom: June to October; pink flower
Hardiness zone 3–9
Magic Carpet is a bright-colored deciduous shrub and a great choice for your garden! It bursts out in the spring with red leaves that turn a golden yellow in the summer, followed by pink flowers that emerge in June and last through October. That's a lot of color for one plant! We prune the Botanical Garden's back to about 12 inches in the early spring, and that is all the care that they normally require. They also grow in most soil types and are insect and disease resistant.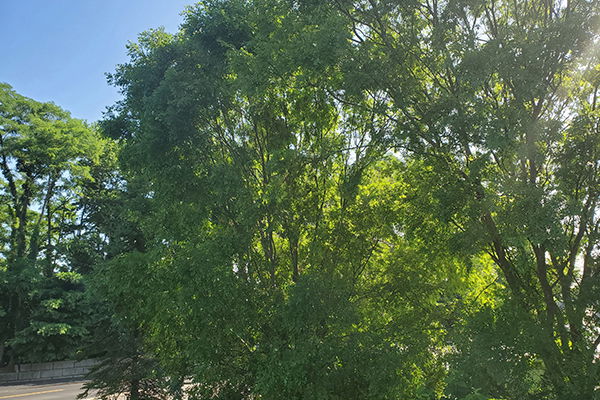 Allee Chinese Lacebark Elm
Common Name: Allee Chinese Lacebark Elm
Botanical Name: Ulmus parvifolia
Height: 40–70 feet
Spread: 25–55 feet
Location: Full sun
Bloom: August to September; insignificant reddish-green
Hardiness zone 4–9
Look at the bark! One of the best traits of this tree is the exfoliating, multi-colored bark, giving year-round interest. The colors continue to become more vibrant as the tree matures. Allee is a rounded to vase-shaped deciduous tree with dark-green, oval-shaped, smaller-sized leaves. In time, it can grow to 70 feet, making a great canopy in your garden.