Spring is officially upon us at the Creation Museum, and we invite you to experience the Screaming Raptor Zip Lines! With something for everyone in your family, check out what you can enjoy when you add this outdoor adventure to your museum visit.
Scenic Views
You can't beat the view from the zip lines. As you fly over the beautiful lake, take in the botanical gardens on your right and the Creation Museum to your left. As you soar through the sky this spring, you'll get to see the trees surrounding you as they begin to come back to life!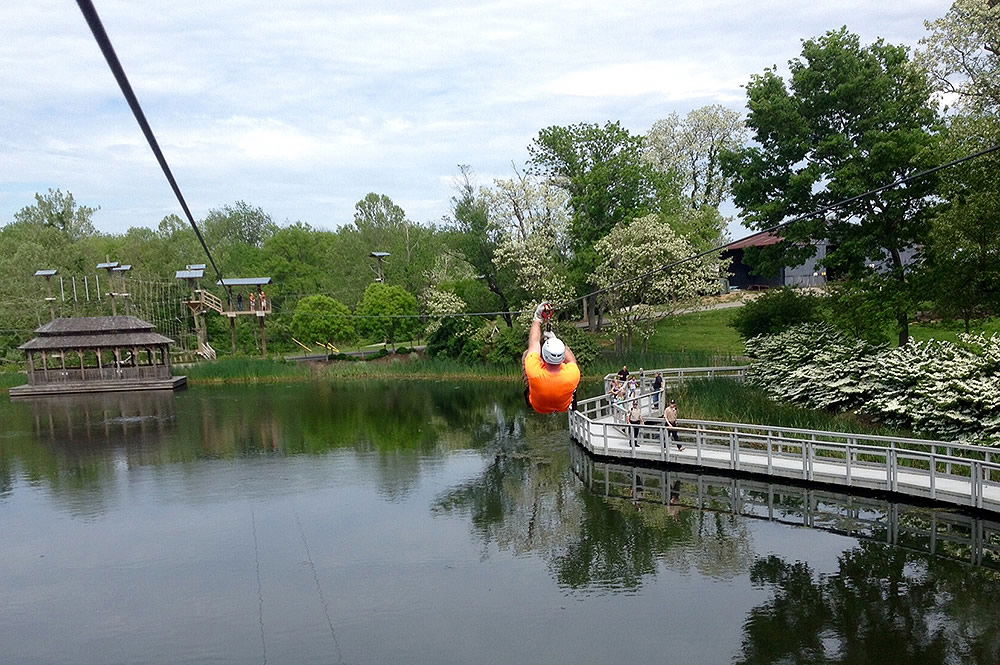 Unique Opportunity
The zip lines are a fun, family-friendly activity. Here are three ways you can add a little thrill to your visit to the Creation Museum.
Dragon's Descent Free Fall
Step off into a new kind of "Wow!" with the free fall, Dragon's Descent. Once you leave the platform, there's nothing but gravity between you and the ground as you plummet more than four stories before safely coming to rest on your feet.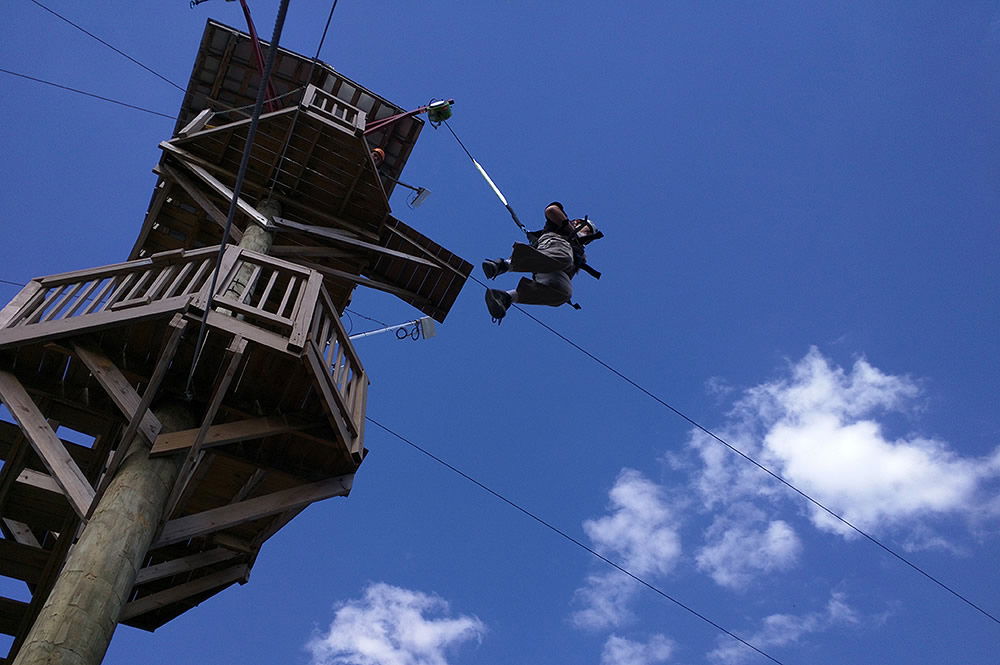 Dragon's Descent is not a bungee jump, but a controlled descent—a unique system that safely offers you the maximum thrill of a free fall vertical drop without the recoil of a bungee.
Raptor's Nest Aerial Adventure
Move outside your comfort zones in a safe but thrilling environment. The Raptor's Nest Aerial Adventure Park includes a course for kids ages four to nine. If they meet the height requirements, your child will move solo through a series of obstacles that range from three to seven feet off the ground. If they do not meet the height requirements, a parent must go through the course with them.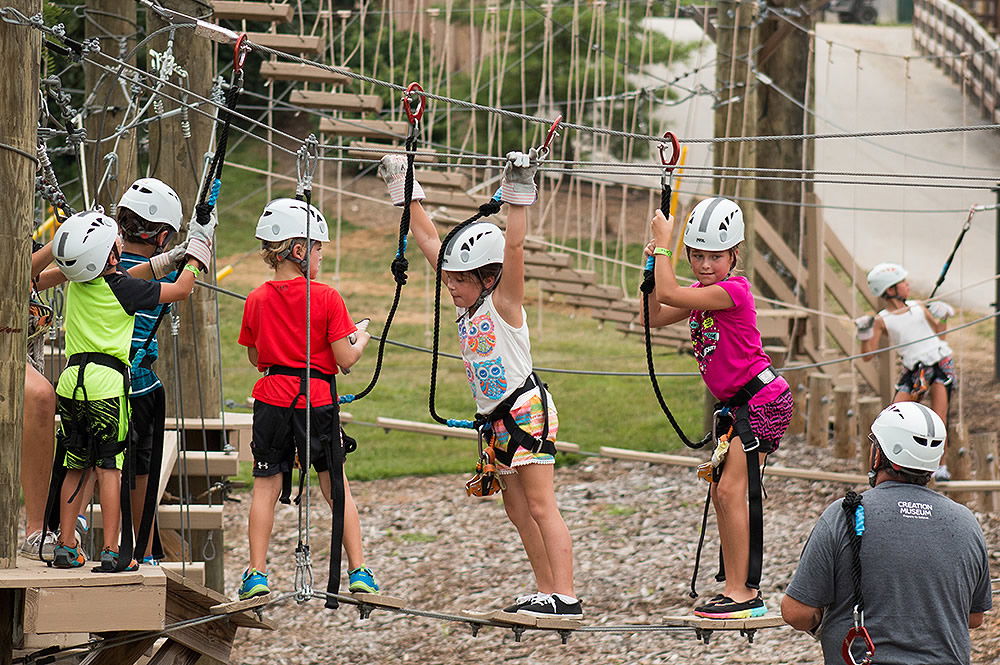 For ages 10 and up, we also offer the higher levels of the Aerial Adventure Park that present challenging activities at heights of 10–45 feet in the air and include two adult-size zip lines.
Zip Lines
The Screaming Raptor Zip Lines has five different course options available for you to choose from based on how adventurous you are and how much time you want to spend on the zip lines. You can experience five zip lines if you choose the Petro-Soar Level 1 option or up to 25 lines, 10 sky bridges, multiple free falls, and the aerial challenge with Level 5.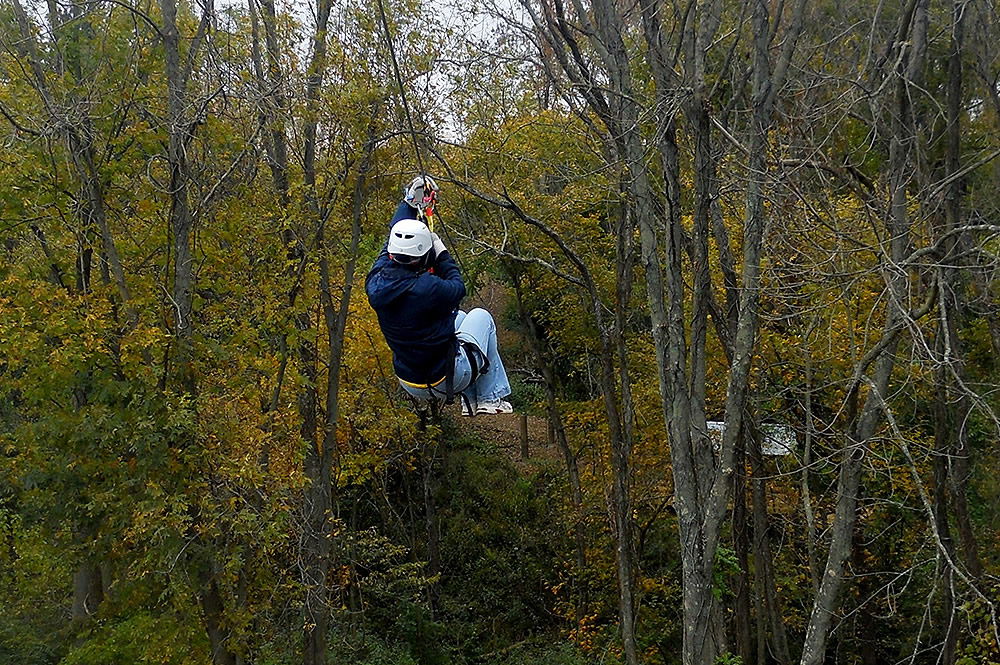 See the zip lines page for more information about the different levels, prices, and requirements for each of the Screaming Raptor Zip Lines options.
Create Memories
Be sure to go home with proof of your family's extreme adventure by purchasing a photo of your zip line experience. Stationary cameras will snap an action shot as you soar across the lake and through the woods so you can remember your experience for years to come.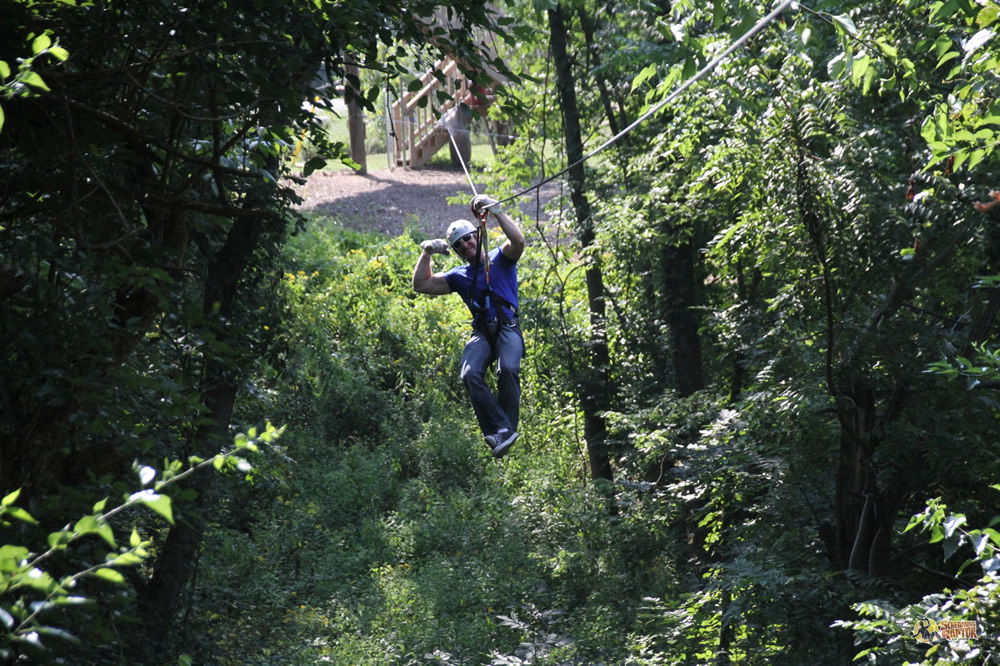 Please keep in mind when making your plans that availability varies and is limited. To purchase tickets in advance for the zip lines, free fall, or aerial adventure park, please call Reservations at 800-721-2298. Tickets are also available from Customer Service upon your arrival at the Creation Museum.