Have you ever wondered what it would be like to spend a day in our zookeepers' shoes? In this blog Zoo Supervisor Leanne Sarkisian will give you a glimpse of what it's like to work with our animals on a daily basis.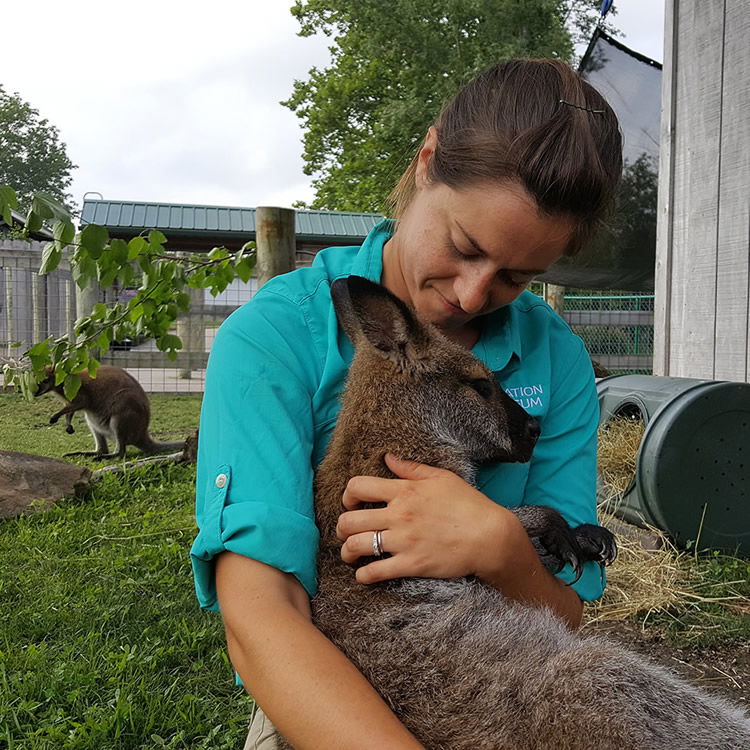 Breakfast Time!
We arrive at the museum long before we welcome guests each morning. We have animals to feed and care for before we even open our gates, and we often have baby animals that are being hand raised. So first thing in the morning, we make their formula and feed them! Right now, we have four baby goats we are bottle-feeding.
After we take care of the babies, we move along to feeding the rest of our animals. We prepare our animal diets the night before so we can just grab their buckets in the morning and go! Most of our animals get some type of grain with added minerals and vitamins to keep them healthy. In addition to grain, all of our hoof stock animals receive hay. We closely monitor the amount of hay our animals eat and watch their weight to ensure that they are getting appropriate nutrients.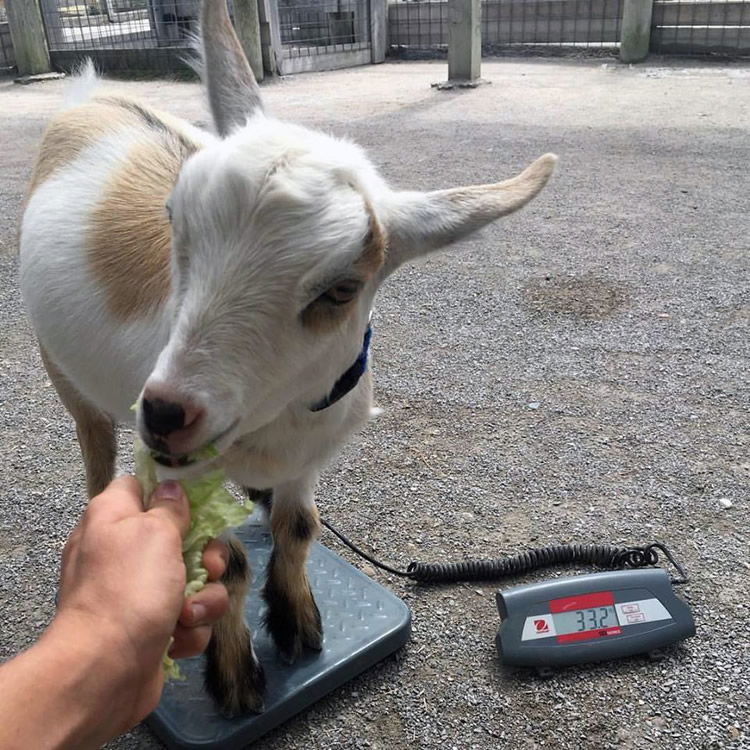 Animal Exhibit Care
After everyone gets breakfast, we begin cleaning the animal exhibits. This is actually what we spend most of our day doing. Zookeepers often call themselves professional poop scoopers!
Our zorse, zonkey, and camels stay in their stalls as we clean their outdoor yards to ensure we can safely clean and do maintenance in the exhibit while they enjoy their grain and hay inside. After all the hay and animal waste is removed from the yard, the keepers rake the yards so they look nice and clean.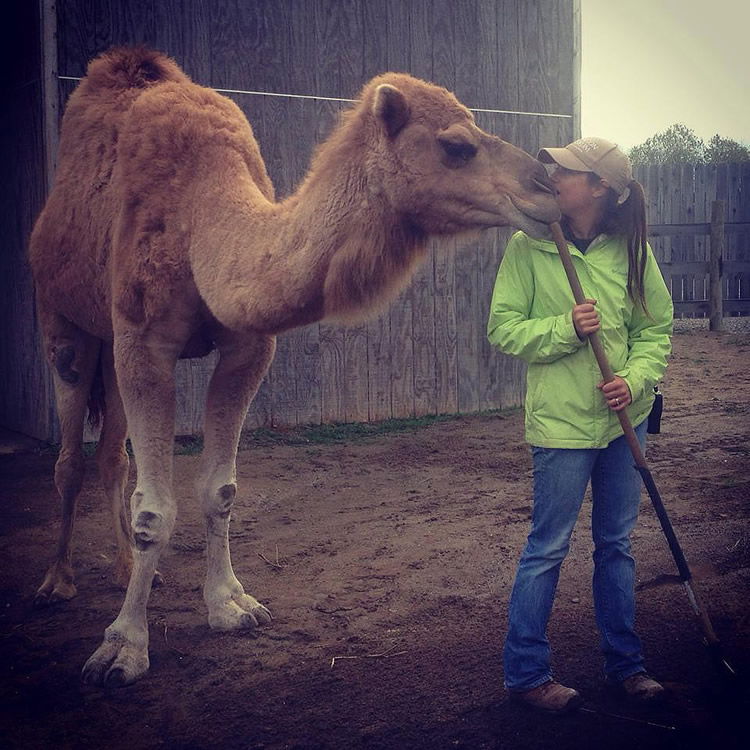 Our keepers often use this time to do some training with the animals, apply fly spray, or give any medication the animal needs before shifting them into the outside yard so the barn can then be cleaned.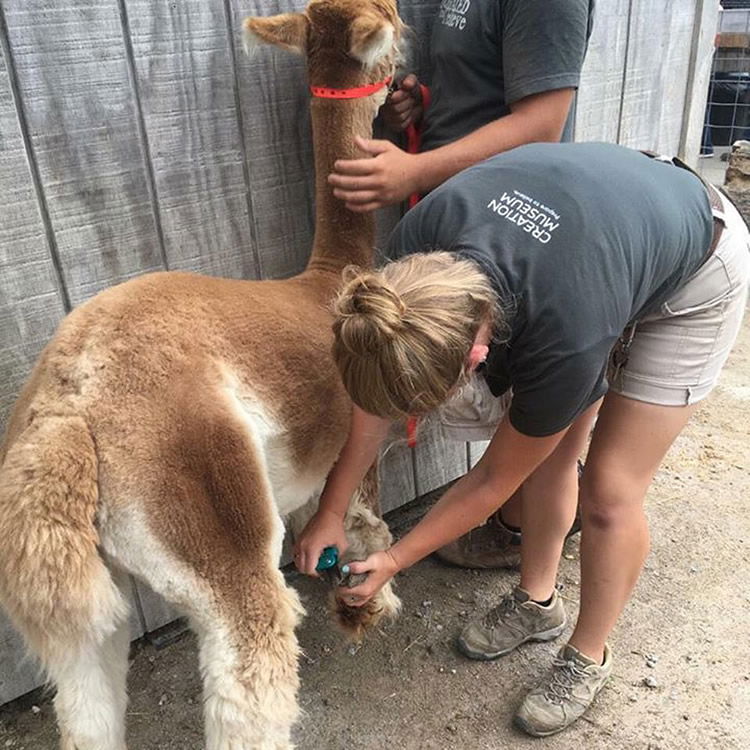 Guest Interactions
Our mornings are filled with guest interaction too. We usually have several zookeepers and animals out and about interacting with guests in the botanical gardens and even inside the museum.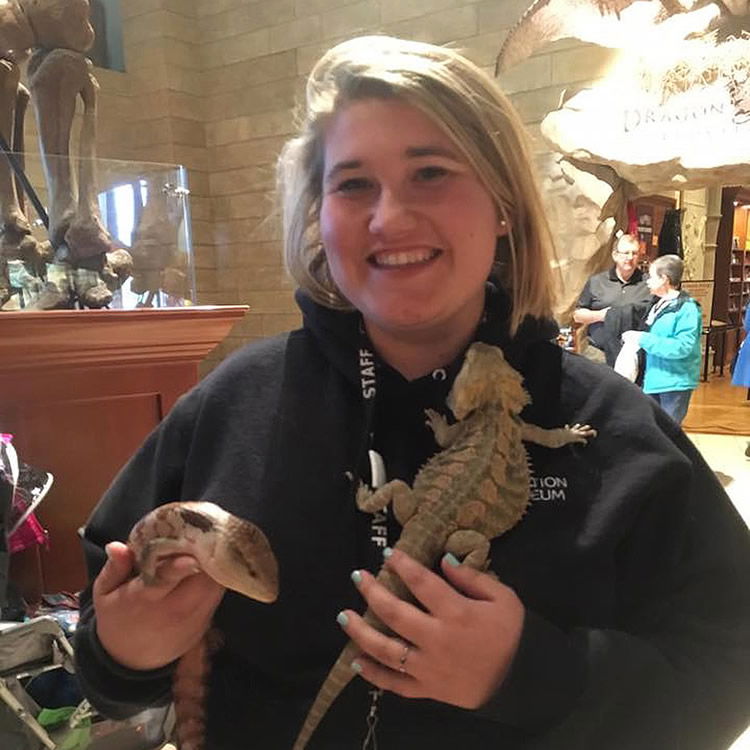 Every day, we have encounters scheduled to give our guests fun, educational, and up-close encounters with some of our animals. For example, our new hedgehogs, Tulip and Lily, can often be found in the zoo or museum, interacting with our guests!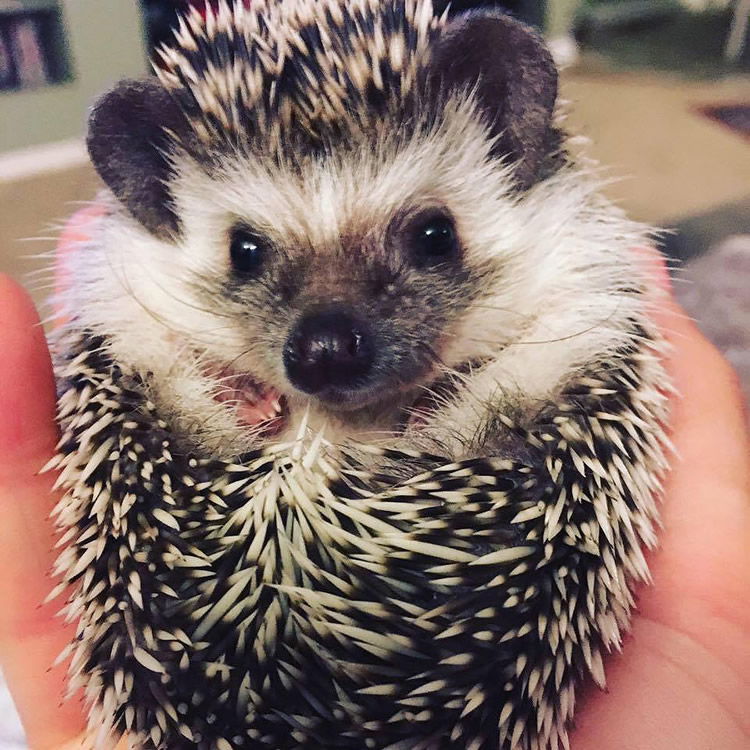 Busy Afternoons
Afternoons are always quite busy for us. We offer camel rides Monday through Saturday, and it is quite the process getting the camel ready for rides every day! (You can learn more about this process in our blog "Seven Steps to Get Camels Ready for Rides.")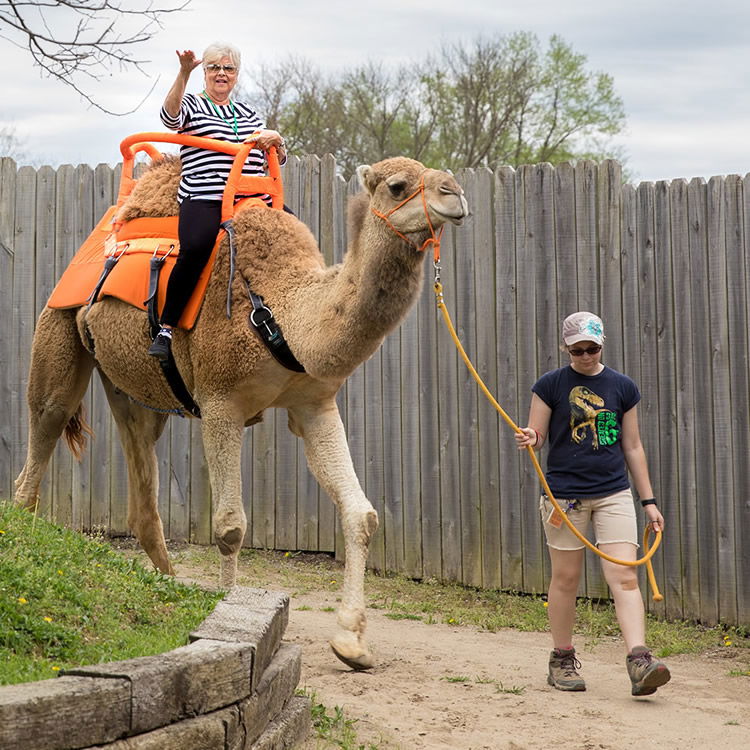 We usually see many families come out to visit us during the afternoon, so we have goats and sometimes other animals in our petting yard for kids to interact with and pet. We also offer several different animal encounters, animal training, animal painting, and animal enrichment sessions for our guests to observe or participate in. These activities are fun for our animals, our guests, and for us too!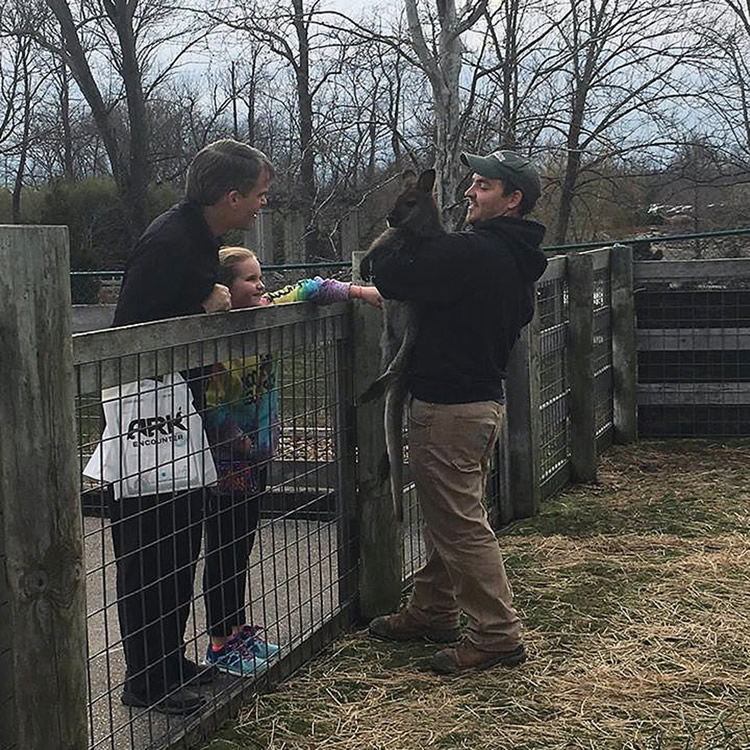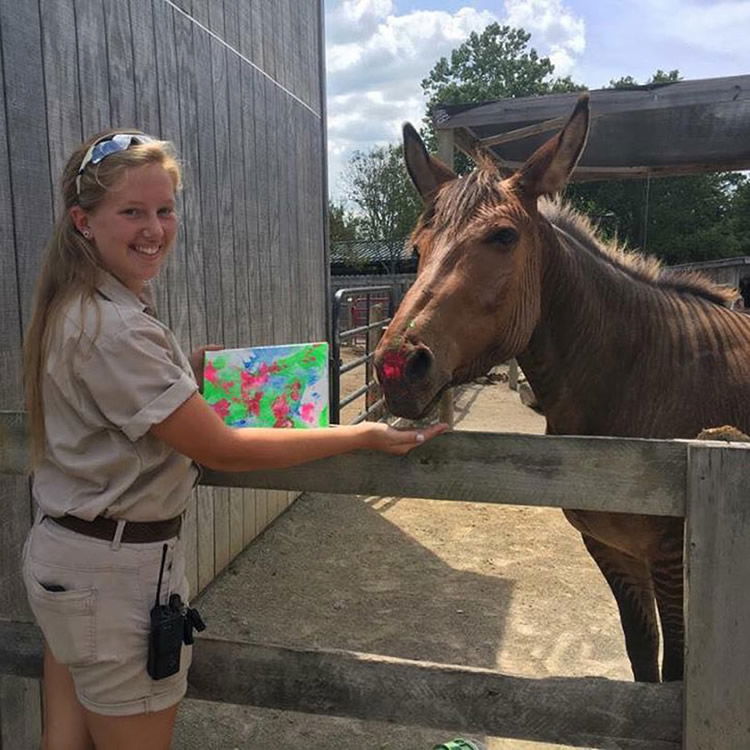 Wind Down
As afternoons begin winding down, it is time to do the evening chores and prepare for the next day. One of us will carefully mix diets for the evening as well as the next day. Each animal has unique needs that we must consider when preparing their meals.
Our opening keepers clock out and head home while our closing crew begins to distribute evening hay and grain. Next, we do an evening cleaning of all the animal exhibits. This helps keep our animals clean, comfortable, and healthy overnight.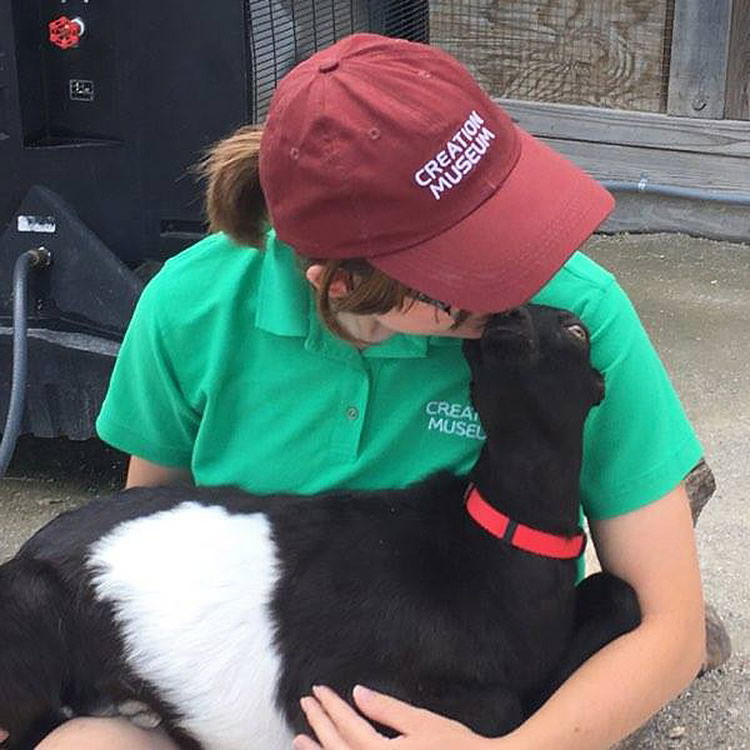 Once all the feeding and cleaning for the animals is complete, we finish food preparation for the next morning, clean our indoor and outdoor food preparation space, and catch up on any paperwork, such as training or animal health records.
As we close our gates for the day, we make one last round to make sure everyone is settled in for the night. Then the next day we have the privilege of doing it all over again!
When you visit the Creation Museum, be sure to stop by the petting zoo to interact with our staff and animals. Share your photos of your favorite petting zoo animals with us on Facebook, Instagram, and Twitter using #creationmuseum, and you might see yours featured in a future blog post.