Are you looking for a fun place to work where you can share the love of Christ with others? If so, consider joining the Creation Museum staff! We regularly hire museum hosts to serve in various positions including food services, housekeeping, and retail. Whether you desire to focus on only one of these areas or enjoy the challenge and variety of working in all of them, our positions provide the flexibility to work with your schedule and desired career path.
Our inflatable T-rex recently took to the museum to try his hand at a few of the jobs! Here are three areas where you can serve as a museum host that our inflatable T-rex can't.
Food Services
Our T-rex has short arms, which creates tough situations for him on the job. While you may be able to bend over and pick up items that have been dropped on the floor, he struggles to help keep Noah's Café nice and tidy for our guests!
Retail
His short arms also prevent him from restocking shelves in the bookstore! Our inflatable T-rex needs help to place books and other resources on the top shelf, but you shouldn't have any problems if you want to work with our retail staff in the Dragon Hall Bookstore.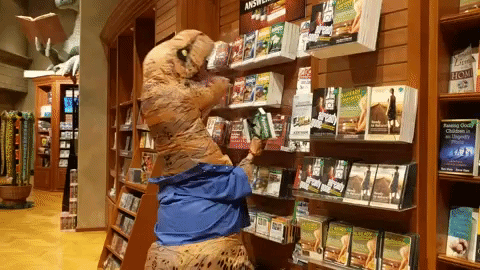 Housekeeping
He didn't work out so well in housekeeping either. While our inflatable T-rex is a hard worker, he is a bit clumsy and created an even bigger mess as he tried to clean. If you join our housekeeping team, you might have to follow him and clean up behind him!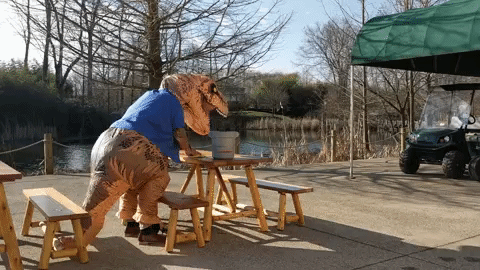 Even though we want our staff members to enjoy their jobs, our inflatable T-rex often has a little too much fun on the job! We need dependable, hardworking people like you to make sure jobs get done around here.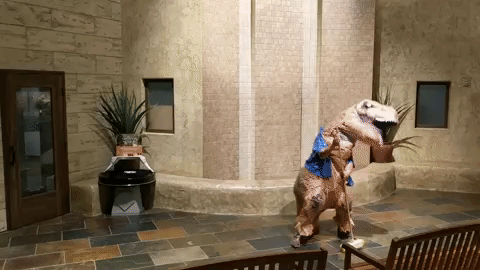 Check out the different positions our T-rex tried out in the video below.
Of course, these are not the only positions available here at the Creation Museum! Visit our jobs page to learn more about our openings and apply today. You can also read our "Highlights of Working at the Creation Museum" blog to learn about some of the benefits of working with us.