Have you ever wondered what goes into getting CJ and Gomer ready for camel rides at the Creation Museum each day? Our petting zoo staff recently gave a behind-the-scenes look at the process. Here are seven steps to prepare our camels for rides.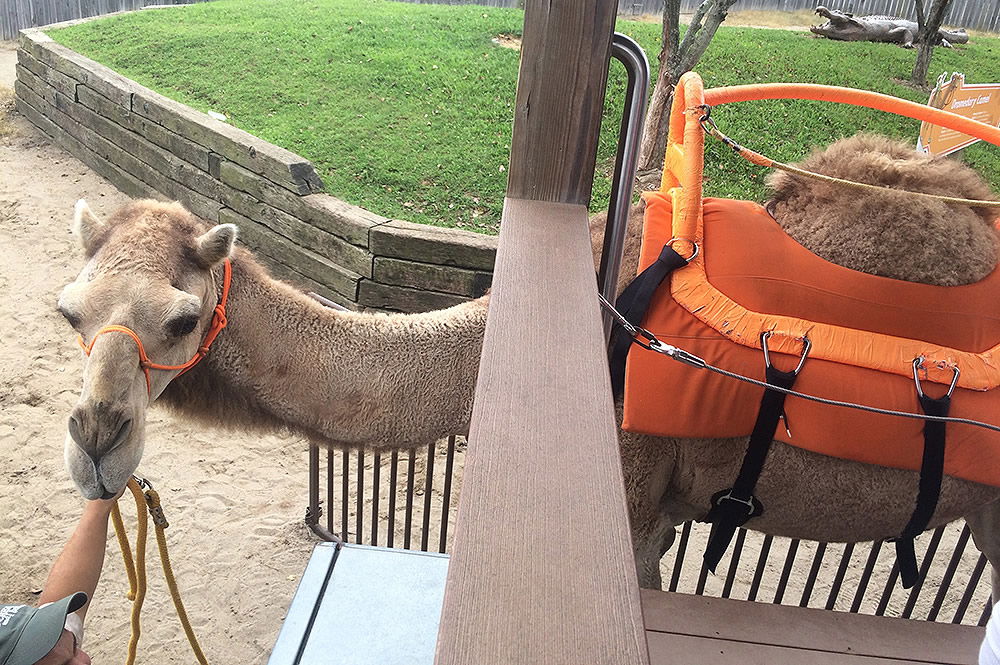 Journey to the Track
About 45 minutes before rides start for the day, our staff members move CJ or Gomer into the camel ride track.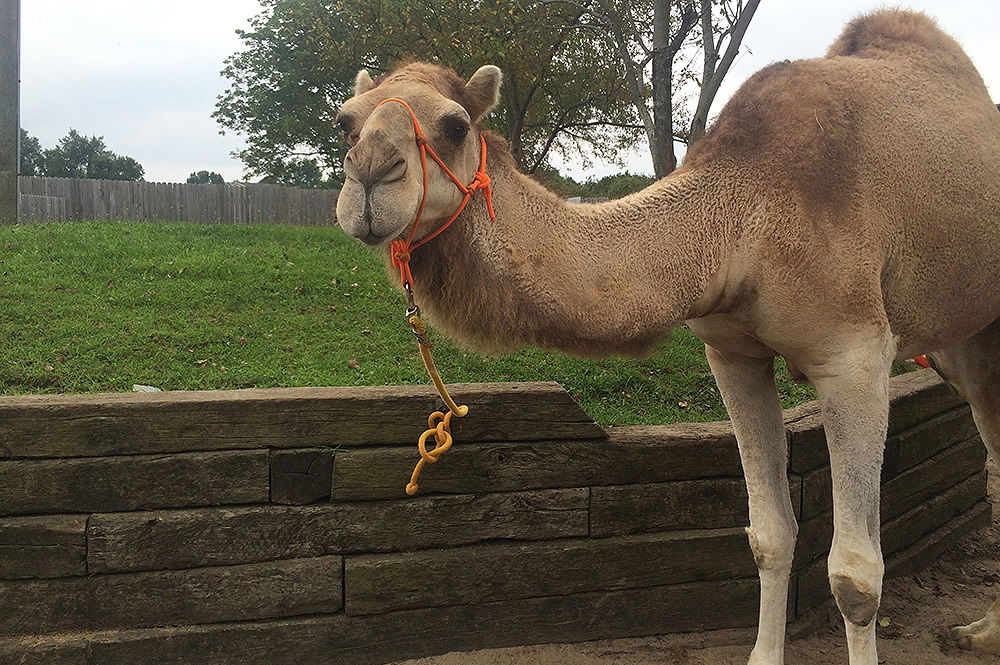 CJ and Gomer alternate days in which they give rides, but when it is their turn, they are taken to the same spot in front of the camel ride platform each day to get ready. Consistency is very important for our animals, so they get ready in the same spot and go through the process in the same order each time out.
Foot Check
After they arrive at the track, our zookeepers give them a quick checkup to make sure they're ready to go. They thoroughly check the camels' feet for any sores, cuts, and bruises.
Then our zookeepers use a soft brush to clean the pad of their feet and clean out their toenails.
Did you know that camels' feet are designed to keep them from sinking in the hot sand of the desert? The pad on their foot acts like a snowshoe and allows their foot to spread over the sand to keep them above it.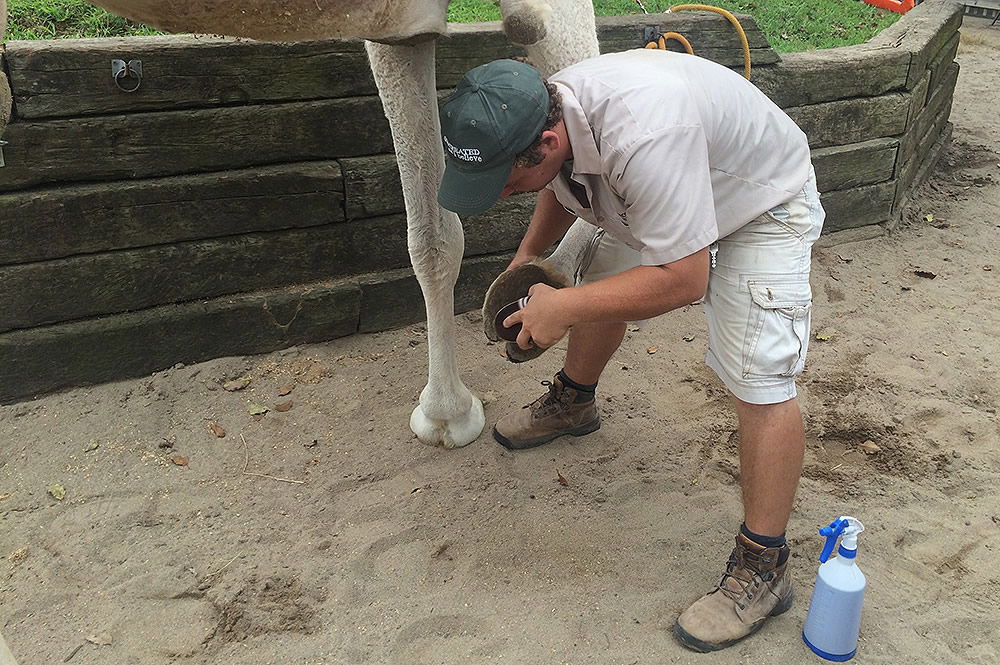 Brush Down
CJ and Gomer then get their hair brushed out with a soft brush and curry comb. Since they like to roll around in the equine pine bedding that is used in their pen, the soft brush gets the bedding and dust out of their hair. The curry comb acts as a massage as it removes the dead hair, dirt, and debris.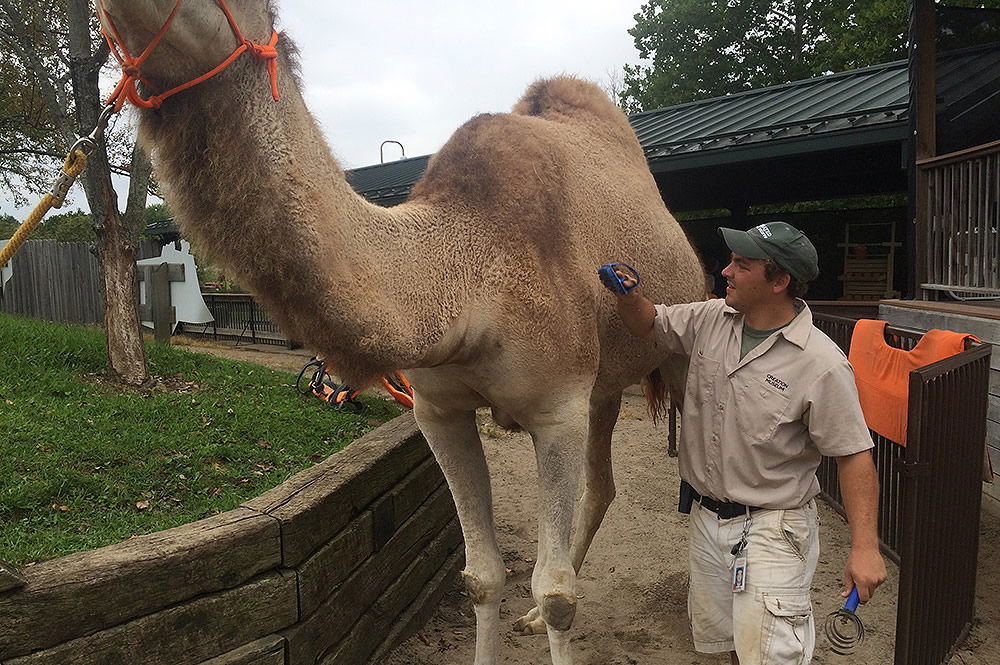 Blow Dry
After the camels are brushed down, our staff members use a dog dryer to blow off any remaining dust or dirt. The zookeepers use this process to desensitize CJ and Gomer to sounds during training and get them used to feeling something on their skin.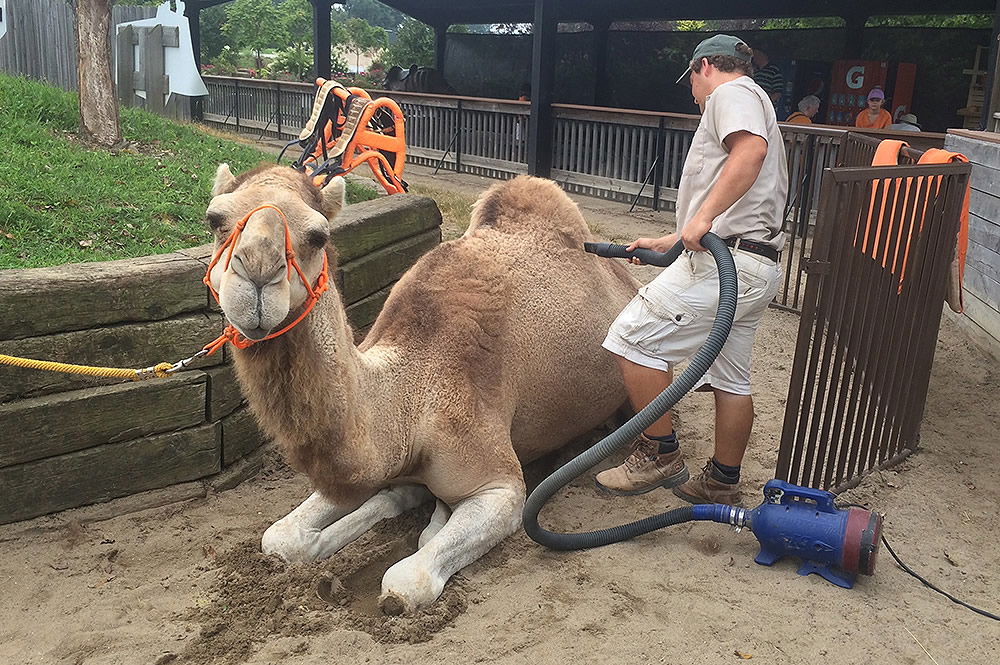 Saddle Up
Once these steps are completed, it's time for them to saddle up. CJ and Gomer each have their own saddle blanket that was custom made to accommodate for their humps before the saddle is added. The saddle blanket makes it more comfortable for both our camels and guests.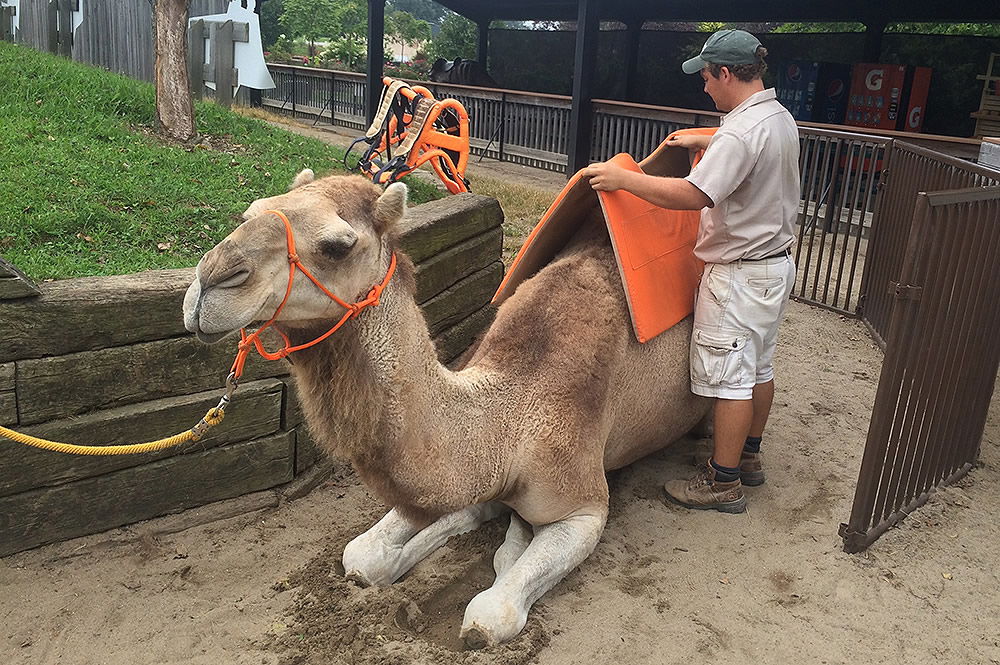 After the saddle is placed, our staff members brush off the camels' bellies one more time before tightening the straps. This helps to ensure dust and sand does not get trapped under the straps and irritate the skin.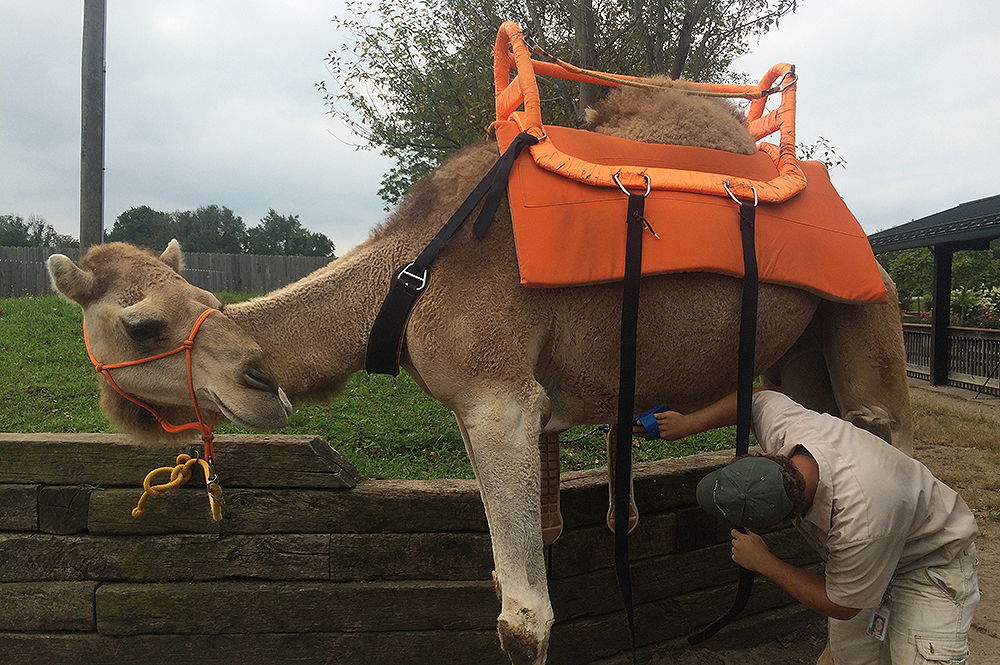 Spray Down
One of the final steps in preparing CJ and Gomer is spraying them down with a fly spray to keep away any insects that might bite them. Our zookeepers make sure to focus on their legs because that is where their hair and skin is the thinnest.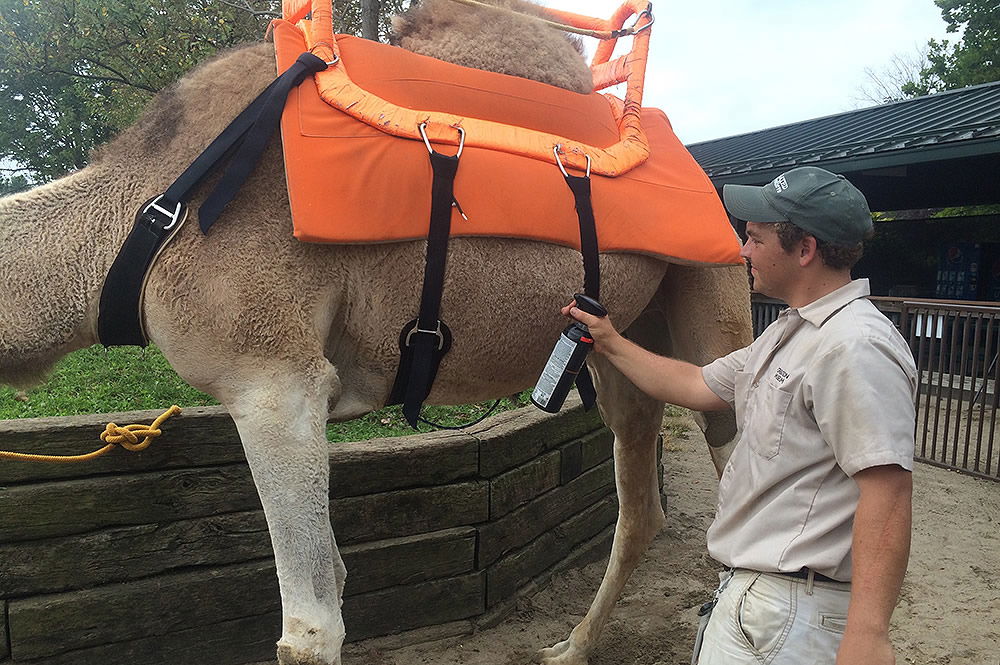 Test Ride
A test ride around the track is the last step of preparing them for rides. This helps to make sure that CJ and Gomer are comfortable with the area and that the saddle fits correctly. As they walk, our staff members double check to make sure the saddle is tight enough for our visitors, and they keep a close eye on the saddle throughout the day as well.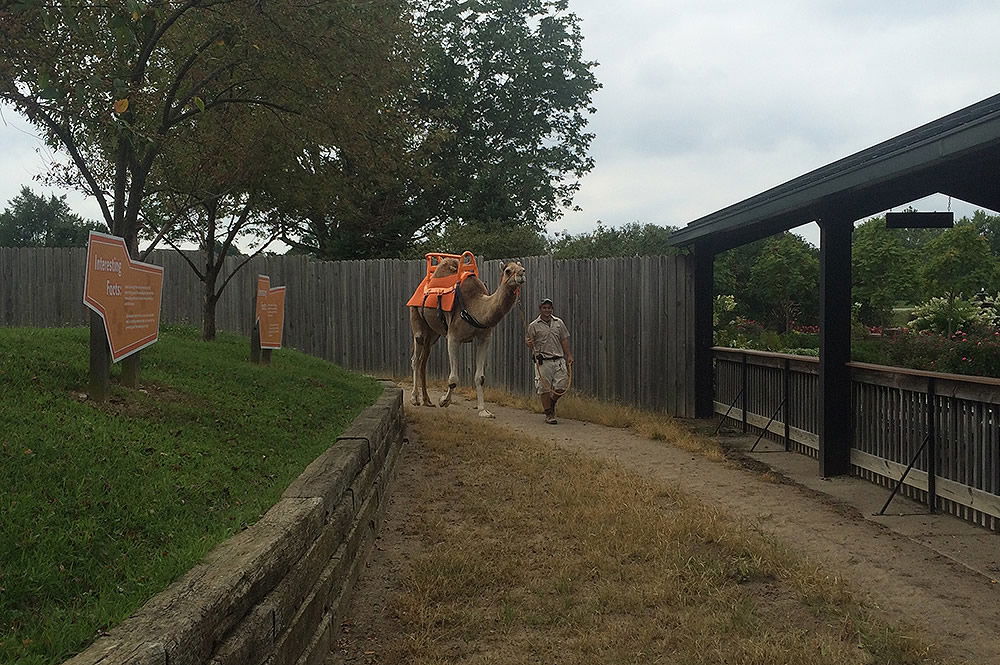 After indulging in a treat for being so good during the ride preparation process, CJ and Gomer are ready to take guests around the track!
Be sure to work a camel ride into your visit at the Creation Museum. Through Labor Day, rides are being offered seven days a week from 1 p.m. until 4:45 p.m. Check the events calendar or daily schedule to see when rides will be available after Labor Day.