Astronomy lovers can come explore the night sky at an after-hours event on Friday, April 15, or Friday, May 6, at the Creation Museum in Northern Kentucky, just a few miles southwest of Cincinnati.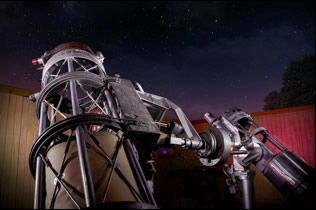 If the sky is clear, you'll have access to powerful telescopes in our observatory, where you'll get to examine constellations, stars, star clusters, and more, while learning about what you see from PhD astronomer Dr. Danny Faulkner.
Teaching from the perspective that creation and God's Word is true, Dr. Faulkner will help you understand the night sky and God's creation in a whole new way. Plus, you'll have the opportunity to watch a unique Planetarium show that isn't normally shown at the museum.
Don't worry if the sky is cloudy, because our Planetarium is equipped with a state-of-the-art digital projector that will broadcast the stars as they appear in real time. We'll happily let you stay inside for a live Planetarium show with commentary by Dr. Faulkner to enjoy the evening instead.
Get tickets in advance to reserve your spot!