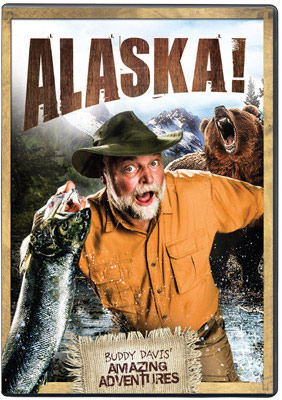 How many people can you think of who sing, write songs, play eight instruments, sculpt dinosaurs, take epic adventures, act in movies, teach apologetics to kids and adults, and dig for dinosaur bones? We can only think of one man with all of these talents and his name is Buddy Davis.
He doesn't do any of these talents halfway, either. One of his latest documentary DVDs "Buddy Davis' Amazing Adventures: Alaska" just won an award for "Best Short Documentary" at the Christian Worldview Film Festival. This fourth episode of the Amazing Adventures series follows buddy through the wilderness of Alaska, teaching about species and variations of bears, the significance of gold in the Bible, and about how God calls us to be fishers of men. Plus, your whole family will love to sing along and laugh while they learn valuable truths about God's Word. It's available for sale in the Creation Museum Dragon Hall Bookstore when you visit, or in the Answers in Genesis online store.
One thing we love about Buddy is that he loves hanging out with people like you! You can find him at the Creation Museum many days out of the year. He'll be teaching workshops you can attend or putting on performances in Legacy Hall. Check the calendar to coordinate your schedule with Buddy's. Buddy always gives the glory to God during his work and you are sure to leave equipped and encouraged.
Even if you visit during a time when Buddy isn't at the museum in person, you can still learn from his incredible teaching in Buddy Davis' Dino Den, where they even show one of Buddy's DVDs about dinosaurs (also available in the Dragon Hall Bookstore).