Every day, our kids are challenged to stand for God in their schools, among their friends, in our culture . . . no matter what. And they're bombarded with the lie that God's Word isn't true when it talks about earthly things (e.g., rocks, fossils), so it can't be trusted to tell the truth about spiritual things.
Noah experienced the same challenges during the time of the great Flood thousands of years ago. Yet, by God's grace, he was able to Stand for God, Obey God, Trust God, Thank God, and Fear God . . . no matter what.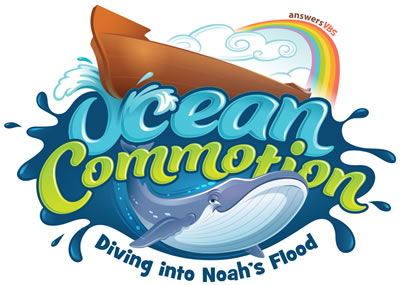 At Answers in Genesis and the Creation Museum, we are dedicated to standing on the authority of God's Word and teaching our kids the same thing. We invite you to be a part of Ocean Commotion—Answers VBS 2016—and prepare for a boatload of fun and solid biblical teaching for your church, family, and neighborhood!
The Creation Museum is offering an exciting opportunity for you and the leaders in your church to get a sneak peek of this exciting VBS program for free so you will be better equipped to do the teaching in your own churches and communities.
Join us at the Creation Museum's Discovery Hall either January 29, 2016, 9:30 a.m.–12:30 p.m. or January 30, 2016, 1–4 p.m.
If you are involved with VBS or teaching children in any way, we invite you to attend to find out more about Ocean Commotion. We'll provide an overview of the biblical content and showcase various aspects of the program. We'll demonstrate the science experiments and have a hands-on time for learning how to decorate your Ocean Commotion spaces, taught by a team from one of our amazing pilot churches!
When you come, you'll be entered to win an Ocean Commotion Super Starter Kit (a $189 value) and also a set of Ocean Commotion scene setters (a $299 value). And at the event you'll be able to purchase other Ocean Commotion supplies at a 25% discount while avoiding shipping costs since you will leave with the items in hand. As an added bonus, you'll be able to tour the museum the day of the workshop for just $10 per ticket!
Preview Day Itinerary
Welcome and overview of Ocean Commotion
Demonstration of snacks, crafts, and science experiments
Overview of lesson content
Ask an Expert: Q&A time with Dr. Georgia Purdom, content consultant for the Ark Encounter. Come prepared to ask her the questions you have about Noah, the Flood, and the Ark!
Decorating Tips: Learn how to transform your church into a real ocean commotion through practical decorating tips and simple painting techniques. Discover how to create your own seaweed and grass tufts, sand bar and rocks, life preservers, and other various ocean décor. DIYers, utilize these decorating pointers to construct pier posts, coral reefs, and other ocean scenery. Use common everyday items including coffee filters, paper plates, expandable foam, and pool noodles to create a vibrant ocean vista.