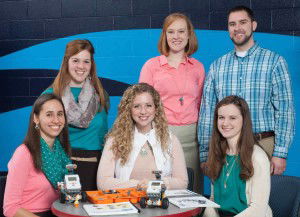 This spring, the Creation Museum will again host Bob Jones University's Technology Ministry Team. This is a great opportunity for young people to learn and appreciate the complexities of God's creation. Robots don't just happen by chance; they are built and programmed to do what they do. During this program, participants will get a close-up introduction to how robots work using the LEGO® MINDSTORMS® NXT. Together with a small team of other participants, they will program a robot to respond to sound, recognize colors, or execute other programmed commands. These programs are open to students in fifth through twelfth grades. Two versions of the program are available. In the one-hour session, problem-solving and teamwork skills will be put to the test as the kids program pre-built robots. For a more in-depth look at how these robots work, the two-hour session gives them the exciting task of building the robot that they will program.
Tickets for the one-hour session (program pre-built robots) are $3.50 while those for the two-hour session (build and program robots) are $5.00.
Museum admission or membership is required to purchase a program ticket. Members and Passholders receive a 10% discount for onsite ticket purchases. One free observer space (e.g., for a parent) is available with each participant ticket purchased.