Several years ago, the Creation Museum had the privilege of acquiring a vast shell collection. We sent a couple of staff members to Florida to carefully package the collection and transport it back. Since that time, we have spent an immense amount of time cataloging them and having them appraised. Recently, the curator Stephanie McDorman shared the background of some of these shells for our readers' pleasure: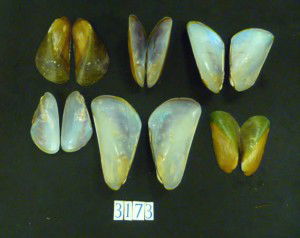 You probably never imagined something from your lunch plate being in a museum collection.

When John Baker enjoyed his lunch of mussels on a boat headed to Jesusita Island, he had the forethought to hang on to the shells, but who knows if he imagined their ending up in a museum!

When I encountered this comical note while cataloging Mr. Baker's enormous collection of shells, I had to share it: "Served w/rice on boat trip fr Horseshoe Bay to Jesusita Is., Costa Rica 4/75, quite tasty, if you like mussels."

Most of his shells were collected on beaches or purchased from locations all over the world, but this little bag of Guiana swamp mussel shells is special.

Mr. Baker has gone on to enjoy his eternal reward, but I had the honor of meeting him when we picked up his shell collection in Florida in 2010. I enjoyed hearing of his adventures while traveling and collecting shells, including an amazingly light-hearted true story of a shipwreck in the Caribbean. But that's another story . . . .