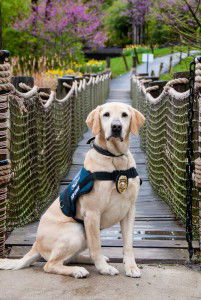 In the fall of 2011, the Creation Museum was blessed to receive a special donation from master trainer Adam Witherspoon, owner of Shiloh K9, in Stoneville, NC. Officer Sandy was rescued from a confined life in a 4' x 4' kennel. She has been trained in odor recognition to serve the guests and staff members of the museum.
From the very beginning of her training, Sandy has associated work time as play time. She is happiest when she is searching the halls of the museum with her handler Tylor Mayfield, who spent six weeks going through special training himself. Tylor works her three to four hours per week keeping her scent skills honed and her obedience at a high level. Sandy's only reward for a job well done is play time with a tennis ball. In her off time, she enjoys taking walks and playing Frisbee. An interesting side note: somebody contacted us once wanting to hire Sandy for three hours of work and was willing to pay $2,000! Local law enforcement knows that Sandy's services are just a phone call away.
When you visit the museum, say "Hi" to Sandy, but don't pet her—she's a working dog. Sandy is an excellent example of God's intelligent design of the dog kind and His provision for his people.