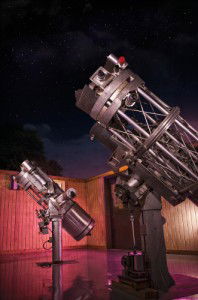 Oddly enough, lunar eclipses can only occur when there is a full moon . . . so they are all the more exciting as you watch Earth's shadow pass across the face of the moon. And they are a fairly rare phenomenon, usually happening only twice a year.
In the early morning hours of Wednesday, October 8, there will be a total eclipse of the moon. Join Dr. Danny Faulkner, Answers in Genesis astronomer, and watch the eclipse up close using our telescopes. In addition to the moon, we will take the opportunity to view Jupiter and perhaps a few other things while the sky is full dark during the eclipse. The eclipse begins a little after 5:00 AM and ends after sunrise. Totality is from 6:25–7:24 AM. This will give you plenty of opportunity to ask questions and pick Dr. Faulkner's brain.
Date: Wednesday, October 8, 2014
Time: Arrive at the Creation Museum at 5:00 AM on October 8, 2014. The event will conclude at 7:30 AM, but you may leave earlier.
Cost: None (except for the loss of sleep), but you must register online. Availability is limited, so register early. Registration closes at noon October 7, 2014.
Suggested age: 12 and up
Location: Back parking lot near the observatory. We will be outside the entire time. Restroom facilities will be available, but the museum building will not be open.
What to bring: Warm clothing, lawn chairs, sleeping bag and ground cloth, pillow, snacks, water.
Bad weather: In the case of cloudy or inclement weather, the event will be cancelled. The call for cancellation will be made at 5:00 PM, October 7, 2014. We will send cancellation notices via e-mail.