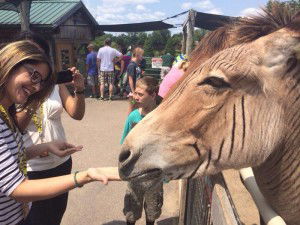 Many of our guests take a pleasant stroll through our botanical gardens and end up visiting our petting zoo. Adults and children alike enjoy petting and feeding the various animals and getting their pictures taken with them. A real highlight of their visit is to ride one of our camels, Gomer or CJ.
Our staff work hard to maintain the zoo, and this past winter received the ultimate compliment from a person very familiar with petting zoos who said that we had the cleanest petting zoo that he had been to recently. When the weather is really inclement like we experienced this past winter, sometimes other establishments are not as diligent with their upkeep.
Well, just the other day, we received the following comment:
A brother named Jairo Namnun, who is the editorial director of The Gospel Coalition for Latin America brought a group to the museum yesterday. Among many incredible things that he told me, one stood out. He commented that the whole group had been a few days prior to the zoo in Louisville and that our petting zoo was much better than the entire grounds of Louisville. He said that the interaction with the animals and the plaques made for a much more sensory and learning experience.
Be sure not to miss visiting the petting zoo when you visit the Creation Museum this year—the year that kids are free!