Years ago, Gary Dennison found out through a post on an insect forum that we were building an insect exhibit at the Creation Museum. Gary happened to collect butterflies, but more than that, he had developed a skill and art of displaying butterflies in a very special way. For his daughter's wedding, he had created beautiful butterfly domes for unique table decorations. Gary responded to Dr. Crawley's request for assistance with butterflies for the exhibit, and soon he began assembling new delicate domes and delivering them to the Creation Museum.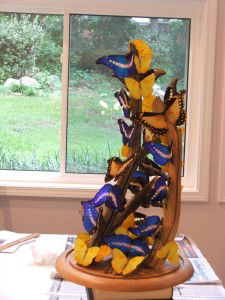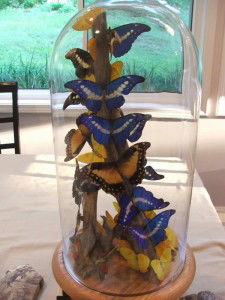 As you can see, Gary specializes in displaying the butterflies in life-like poses on the wood. Over the years he has donated eight spectacular butterfly domes and one scorpion dome, which is now featured on the desk of "Dr. Arthur Pod" in the Insectorium. The work demanded countless hours of his personal time in acquisition, planning, mounting, gluing, repairs, traveling to and from the museum, and more. But it was a labor of love because he desired to honor the Creator with his time, material resources and talents.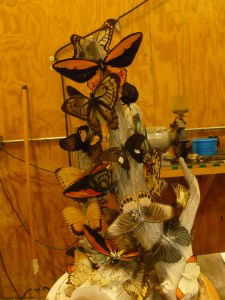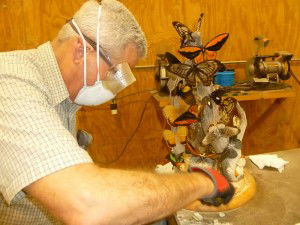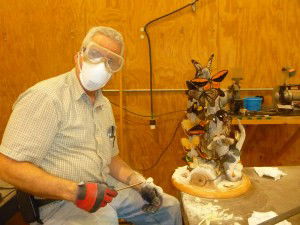 On one of his trips in 2012, Gary's car was loaded down with more than just butterflies—he had many fossils from Alabama along for the ride. It turns out that our butterfly dome expert has at least one other hobby: collecting and learning about Alabama fossils. Alabama is rich with fossils, many of which are in coal deposits. Gary is an active member of the Alabama Paleontological Society and has collected numerous fossils from many sites throughout the state. While collecting fossils has been a hobby for over ten years, now he collects with the Creation Museum in mind.
We wondered how the suspension on Gary's car would recover when he pulled into the shop to drop off a load of fossils last week. It was visibly loaded down with the weight of all that rock! Gary came with two goals this time. Some of the butterfly domes were in need of repair, and he had collected over 100 more fossils for us.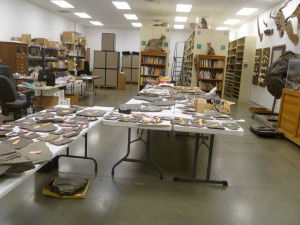 So far Gary has donated a tremendous research and display-worthy collection of over 400 fossils for the museum and the Ark Encounter. They consist of countless trace fossils—tracks of vertebrates called Cincosaurus and Attenosaurus and invertebrates like insects and horseshoe crabs—and many varieties of plants and marine creatures. You might wonder what happened to the bodies of the critters that made the tracks. Our researchers will be studying the fossil formations and developing possible solutions to that and other mysteries that these fossils present, all within a biblical framework of understanding, since the past is the key to understanding the present. Thankfully, Gary has been very diligent to preserve the locality data for the fossils he collected, which makes such research possible.
God can use whatever talents and interests you have, as long as you are committed to His glory! We have the privilege of serving alongside many people with different backgrounds and abilities, with one thing in common—a desire to serve the Lord.