Recently we have mentioned the wall that was being built in front of the Creation Museum. We needed the weather to cooperate, and we endured the general mess associated with a construction site. Now we are pleased to announce the finished product! Our Grand Plaza is even grander!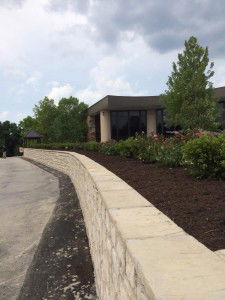 A variety of plants and trees now appear in this new area, such as the following:
"Sun Valley" red maple
 "Green Velvet" boxwood
Japanese spirea
Smooth hydrangea
Lily turf
Shrub rose
Madagascar rosy periwinkle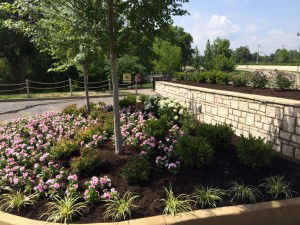 We also used truckloads of mushroom compost and other soil amendments to prepare the new beds for the plants. There are separate zones of irrigation installed to control the amount of water applied to each bed individually. We also installed lighting that washes the wall in the evening along with up lighting in the new trees.
The staff of our Department of Public Safety now have a great place to stand their post on hot days or on rainy days. They provide for the safety of our guests and manage the traffic flow into and out of the parking lot that fills up every day during peak season.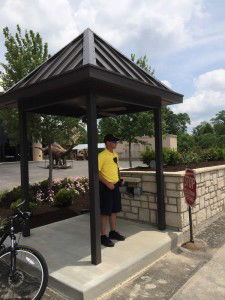 Speaking of hot days, check out how this camel stays cool!  That is a block of ice with vegetables frozen in it.