Many of our previous visitors have noticed our fun-photo spot for children as they finished up their tour through the Creation Museum's exhibits: Sara, a baby triceratops with a saddle on her. Well, now she is out in the gardens beside the restrooms, and it didn't take long for Maddie to find her!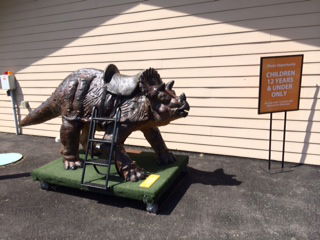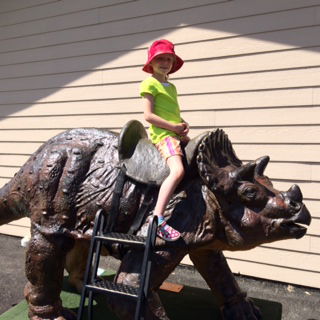 Maddie's family group, consisting of 11 people, decided to spend two days at the museum, so they searched our website for area lodging and found Nana's Victorian Guest House. No doubt the three families wanted to take advantage of our "Kids Free in 2014" program (where all kids ages 5–12 are free with a full-priced purchase of an adult ticket), but they were in for a special treat because on their second day the museum unveiled its newest exhibit, its world-class Allosaurus!
Like Maddie's family, who came all the way from Detroit just to visit the museum, your family too would enjoy a two-day visit that includes zip lines, aerial adventure course, botanical gardens, petting zoo, camel rides, and just being around fellow Creationists. (Did you know that the Museum is within a day's drive of two-thirds of the American population?) And hey, don't forget that photo opportunity with Sara for children!