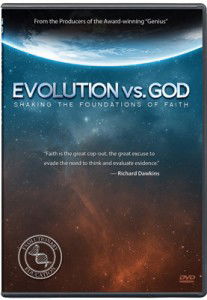 Guests visiting the Creation Museum from Wednesday, August 7, through Saturday, September 7, will be able to watch Ray Comfort's newest video production, 
Evolution vs. God: Shaking the Foundations of Faith
.
The film will be shown Monday–Saturday at 1:30 PM and on Sundays at 3:00 PM in Legacy Hall.
This 38-minute film takes you to the campuses of the University of California, Los Angeles (UCLA); the University of Southern California (USC); and Long Beach State University. Ray interviews students and professors with challenging questions about their faith in evolution.
Ken Ham says, "If building your biblical worldview is your commitment (and it should), then this is one movie you will not want to miss."
Evolution vs. God is also available in our online store for download or you can order the DVD.