We're gearing up for an exciting Memorial Day weekend at the Creation Museum as we celebrate our sixth anniversary.
Two spectacular new exhibits (one featuring dragons and the other exhibiting insects) and the best zip line course in the tri-state region (Ohio, Kentucky, and Indiana) will all be opening soon! The zip line course will consist of 2.5 miles of zip lines and 12 bridges!
One of the new exhibits will fill the large portico of the Creation Museum—filled with dragons!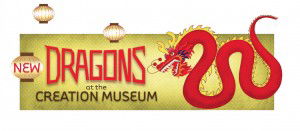 With all-original, spectacular artwork, intriguing portrayals of many dragon legends, hundreds of Chinese lanterns, two large colorful dragons from China and intriguing artifacts, this dragon display will be unique and awe-inspiring. The question will be posed to our guests, "Were dinosaurs dragons?"
We will be featuring the dragons as a part of our new billboard campaign. The billboards will appear primarily in the six major cities surrounding the museum: Cincinnati, Columbus, Indianapolis, Louisville, and Lexington.
We look forward to seeing you soon!