"I'm Going To the Creation Museum in 2013!"

Now that the holidays are behind us and the new year is here, it's a great time to begin planning your 2013 trip to the Creation Museum. Here are a few ideas to keep in mind as you start planning your family's vacation.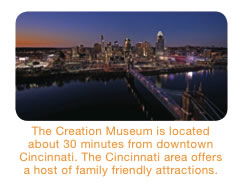 The Creation Museum is located seven miles west of the Cincinnati Airport. Cincinnati is home to a variety of family-friendly attractions. A big reason why the museum is located in this area is because Cincinnati is within a day's drive or an hour flight for almost two-thirds of the U.S. population.
Some of our guests' favorite attractions include: Newport Aquarium, Cincinnati Zoo, Kings Island amusement park, Jungle Jim's International Market, and Cincinnati Reds baseball. Check CincinnatiUSA.com for a comprehensive list of attractions!
Visit Our Website
Since most of our guests travel more than 250 miles to visit the museum, we have taken extra care to give you some helpful ideas to help plan ahead on our website, CreationMuseum.org. The Helpful Tips & FAQ page has all kinds of helpful tips, such as "When is the best time to visit?" and even "Can I bring my pet?"
Book Your Hotel
Our website also has some helpful links to hotels that have special Creation Museum rates!
Buy Your Tickets in Advance
Save 10 percent on the general admission ticket price when you order your tickets in our online bookstore.
"Like" our Facebook Page
Visit our Facebook page to receive daily updates, photos, and interaction with our staff and other people who "like" us! Occasionally, we have contests for free tickets and other resources from Answers in Genesis!
Spend More Than a Day
In our first five years of operation, we received many comments from guests who said that there was no way they could see the entire museum, gardens, and petting zoo in one day. So, last year we made every ticket a two-day ticket. Tickets must be used on consecutive days, so plan accordingly.
Check the Museum Calendar
Do you want to see Buddy Davis in concert or enjoy one of Dr. David Menton's enlightening workshops? Check the museum calendar on our website to find out when to catch your favorite speaker or explore a topic you're interested in.
Have you ever planned a trip to the Creation Museum? What other Cincinnati-area attractions would you recommend? What were some of your favorite activities at the museum?