Whether it's your first, fifth, or fiftieth trip to the Creation Museum, you and your family won't want to miss our 5th Anniversary Celebration, May 25–28, 2012.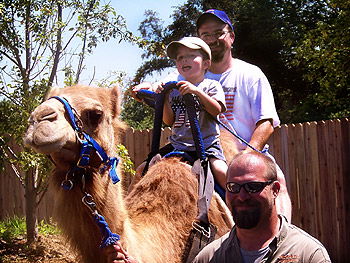 We have a lot to celebrate. After capturing the world's attention when the doors opened in May 2007, we've welcomed over 1.5 million guests to the museum! New attractions like the Dinosaur Den, Petting Zoo, Natural Selection Exhibit, and our newest addition—the "Lucy" exhibit—make each trip to the Creation Museum a fun, educational, and refreshing experience.
Here are some of the highlights of the week that your family will love.
Saturday, May 26
Your toes will be tapping and your hands clapping in a concert featuring one of Southern Gospel's most popular quartets, Legacy Five. Come experience their first-ever performance at the Creation Museum!
Sunday and Monday, May 27-28
Savor the flavor of some of the Cincinnati area's best cuisines from local vendors as we host the third annual "Picnic at the Pavilion." This year's event will feature a host of food vendors as well as face-painting and balloon-twisting. Area restaurants will be offering smaller portions of their menu items for sale.
Friday through Tuesday, May 25-29
Ken Ham will be speaking once a day through the entire weekend! You can hear him at noon on Friday, Saturday, Monday, and Tuesday, as well as a special 3:00 presentation on Sunday!
Bring your questions—he'll be available after each session for a brief time to answer questions and to autograph books and DVDs.
Water Rescue Demonstrations
Saturday, May 26
Enjoy demonstrations from the Boone County Water Rescue team! They will have plenty of fascinating equipment on hand and will demonstrate water rescues in the Creation Museum's lake. You'll be able to ask questions of boat drivers and divers, so come with your questions and cameras!
Other Events
There will be many additional workshops (including the very popular Snakes Alive and Cursed Plants) and other special programs. Check our online events calendar for details of even more events.
More for Members
Thanks to all our faithful museum members who not only contributed to the building of the museum but also ensure the continued development of new exhibits! We're celebrating our first-ever Member Appreciation Week.
Friends and Family Days
May 25–June 1
All current members and annual pass-holders are invited to bring up to four additional guests for free admission each day. Simply stop by the Member Express desk for your extra tickets. (General Admission only. Does not apply to Planetarium or workshop tickets.)
Free Workshops for Members
May 28–June 1
We're expanding our workshop schedule with extra activities all week long, and we're giving away free tickets to members! Visit our event calendar for schedule and details. (Available on a first-come, first-served basis at the museum ticket desk. Not available in advance. Subject to availability.)
Not a member yet? Sign up now to take advantage of these exceptional benefits.