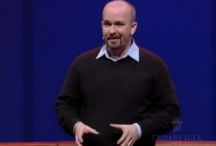 Matthew Moore, an associate professor at
Cedarville University
, will perform his dramatic presentation, "King David: Scenes from Scripture," on Saturday, April 28, 2012.
This dramatic presentation is a dynamic, 45-minute retelling of King David's triumphs and tragedies straight from the Old Testament. Taken directly from 1 and 2 Samuel, 1 Kings, 1 Chronicles, and the Psalms, this unique performance weaves together nearly 20 key scenes from David's life, beginning with his anointing and ending with his death. Matthew will both inspire and exhort audiences to be "people after God's own heart."
Check out Matthew's website—www.lampandlightproductions.com—for more information and for a video preview of the presentation.
Location: Legacy Hall Date: Saturday, April 28, 2012 Time: 2:00 Duration: 45 min Cost: $2 (or $10 per family)
Call (800) 778-3390 for more information.