BJU Ministry Team at the Creation Museum, August 13–18, 2012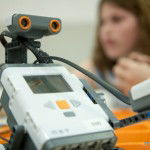 The Bob Jones University
Science and Technology Ministry Team
teaches students to program robots using the Lego Mindstorms NXT ®. Participants, who are placed on teams of three, learn teamwork and hone problem-solving skills. This eye-opening workshop will help you appreciate the complexities of God's creation through the exciting study of robotics.
The BJU team will be at the Creation Museum on August 13–18, 2012. The team is made up of four students and two staff members and will be traveling through the Southeast this fall. The workshop is complimentary for Christian high schools and homeschool support groups.
Visit the members section of our website for more information about free members-only workshops on Monday, August 13. A two-and-a-half-hour workshop (building and programming robots) and a one-hour workshop (programming only) will be offered each day during August 14–18. These workshops are for young people in grades 5–12. The cost will be $5 for the two-and-a-half-hour workshop and $3.50 for the one-hour workshop.
Call Customer Service at (888) 582-4253 for more information.