Signs around the Creation Museum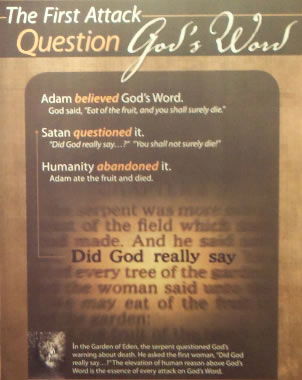 The First Attack: Question God's Word

Adam Believed God's Word: God said, "Eat of the fruit, and you shall surely die."

Satan Questioned It: "Did God really say…?" "You shall not surely die?"

Humanity Abandoned It: Adam ate of the fruit and died.

In the Garden of Eden, the serpent questioned God's warning about death. He asked the first woman, "Did God really say…?" The elevation of human reasoning above God's Word is the essence of every attack on God's Word.
In what ways do you see the authority of Scripture challenged in today's world? How do you defend the Truth of God's Word?
The Story of Gomer Featured in Local Newspaper
Our own Geri Campbell was featured recently in the online edition of the Kentucky Enquirer for her one-person drama, The Story of Gomer.
Geri works as a guest services representative and has performed several dramas at the Creation Museum. Read more about her upcoming performance on February 10, 2012 for An Evening to Remember at the museum.
Children's Ministry Leaders Conference, March 22–23, 2012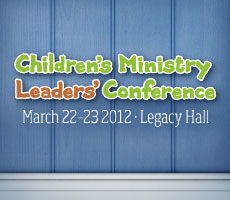 This conference will equip children's leaders to teach relevant apologetics by upholding the Bible as their ultimate authority and providing answers for their lives. With a few easy-to-implement strategies, you can transform your existing curriculum into an apologetics and answers-filled teaching tool! Come to the Children's Ministry Leader's conference to find out how! (By the way, Answers in Genesis will soon have a new Sunday school curriculum; stay tuned!)
Visit the conference webpage for more information.