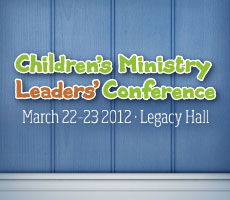 Children's ministry: it's not just fun and games—content matters.
If you're involved in the children's ministry at your church, you won't want to miss our upcoming Children's Ministry Leaders Conference, Thursday and Friday, March 22–23.
As a conference attendee, you will learn how to transform your existing curriculum into an answer-filled apologetics teaching tool! Visit our conference webpage for a downloadable brochure and registration information.
Speakers include: Barb Witt, Bodie Hodge, Buddy Davis, Dr. David Menton, John Swomley, Ken Ham, Roger Patterson, Ruth Carter, and Stacia McKeever
Speaking of curriculum, be sure to stay tuned for the launch of our new "Answers Bible Curriculum" (ABC), which is scheduled for availability later this year!
More Legacy Hall Events
Along with the Children's Ministry Leaders Conference, there are a host of events being planned in our new 1,000-seat multi-purpose auditorium, Legacy Hall, including the Answers for Women conference in April.