Back by popular demand, the Creation Museum is once again offering a presentation of the drama Gomer, starring Geri Campbell, now as a dinner theater on Friday, February 10, 2012.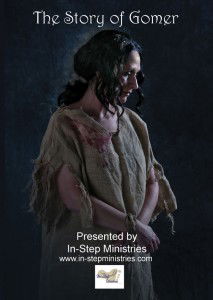 The evening starts with a delicious buffet dinner in our multipurpose auditorium, Legacy Hall. This delicious meal will feature Sliced Roast Beef in Gravy, Spinach and Artichoke Chicken, Grilled Garden Vegetables, Roasted Garlic Mashed Potatoes, creative signature salad, assorted rolls and breads, and assorted Chef's Choice desserts featuring chocolate.
Adapted from the book of Hosea, the story of Gomer is our story. The Bible says, "We all like sheep have gone astray" Isaiah 53:6. Because of the slavery of sin, we each have stood on our auction block. Thank God for a Savior, the Lord Jesus Christ, who searched for us and bought us back by His own precious blood. 1 Corinthians 6:20 says, "You are bought with a price," and that price is Jesus' own life, given willingly on the cross for our sins.
The purpose of this drama is that mankind will know and understand the incredible and unrelenting love that God has for His people. For those who have yet to know Him, and for those who have fallen away, the story of Gomer will bring this message of love and redemption to an intensely personal level.
Geri Campbell has been performing on stage since the age of three, and studied theater under the direction of Arthur Storch at Syracuse University. Geri has a four-year degree in Biblical Studies from Valley Forge Christian College, where she majored in education and music. She has performed numerous roles in comedy and musical theater in upstate New York and the Nashville area, lent her voice talent in radio commercials, and taught drama and music as a fine arts preschool teacher and at the YMCA. Most recently, she has been very instrumental in bringing theatrical productions to the Creation Museum in Petersburg, Kentucky. "The Story of Gomer" was the first-ever live theater event to take place at the museum, followed by a very successful run of an original children's musical about Noah and the Ark called "Let the Rain Come," which Geri co-wrote and starred in along with singer/songwriter Buddy Davis. Geri is also involved in the annual Christmas production Christmas Town at the Creation Museum, where she can be seen playing Elizabeth, the mother of John the Baptist.
Geri and her husband Rich are both employed by Answers in Genesis. Geri is a part-time Guest Services representative, and Rich manages the in-house print shop. Although very involved with AiG and the museum, they still spend much of their time managing and traveling for In-Step Ministries, which allows them to take their shows on the road. Rich and Geri have two beautiful children, Mercy and Christopher, and reside in Hebron, Kentucky.
This delicious dinner and a heartfelt dramatic presentation are only a phone call away, so call Customer Service at (800) 778-3390 to reserve your spot today. Cost is $37.50 per person, and the registration deadline is January 31.