Answers in Genesis recently hosted the first Creation College Expo at the Creation Museum's Legacy Hall in the Cincinnati area. The event, which featured over 20 colleges and universities from around the United States, drew hundreds of students and their families.
In addition to the booths set up by college representative, AiG speakers presented workshops and panel discussions, and they were available to assist the students with worldview questions.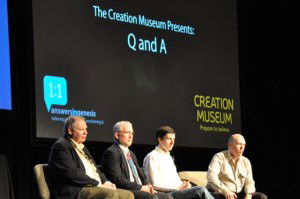 It was a great encouragement to see the next generation of prospective college students engage in conversation with college representative about their future plans!
Check out the event page for a complete list of colleges, seminaries, and universities that participated in the event. You can also visit our Creation Colleges website for a list of Christian schools whose presidents have affirmed in writing their personal agreement with AiG's statement of faith.