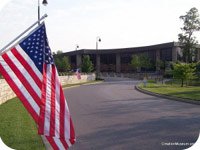 In the United States, November 11 is a special day to commemorate those who have served in our military's armed forces. In honor of our Veterans, the Creation Museum will be offering
free
admission to those who have served.
Be sure to take a moment to thank a vet—and extend an invitation to the Creation Museum this Friday! We also invite you to leave a comment on this blog to publicly thank all vets!
Did you know? Veterans receive free admission on Memorial Day and the Fourth of July also! For more information about free days at the Creation Museum, visit our Free Day webpage.