Make plans now to join Marty and Deb Minnard, Friday and Saturday, January 13–14, 2012, for our upcoming Winter Photography Workshop.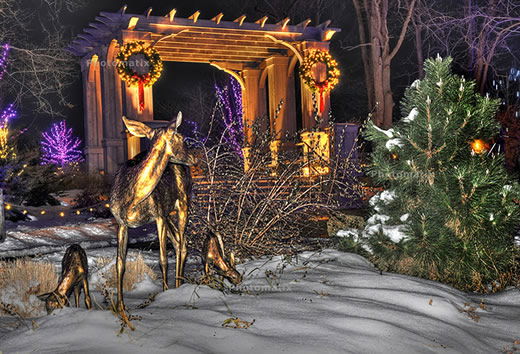 This winter event is an intermediate to advanced class that will teach techniques used to produce HDR (High Dynamic Range) images.
HDR images are especially good for shooting Christmas lights, which will be the main subject for the workshop. Using this technique, three images are captured with varying exposures. The images are then opened in a program that processes them together. It combines the best of each exposure and produces a single image that has more detail than any of the individual images.
The workshop begins at 2:00 PM on Friday with classroom instruction. Then at dusk the Minnards will take the students to the Creation Museum gardens where thousands of lights will await almost endless shooting options.
From 9:00 AM–5:30 PM, students will learn how to process their images in a computer program called Photomatix. Students will have one-on-one critique time to finish up the day. The goal is that each person will go home with at least four amazing photos!
You'll be required to bring the following for this workshop:
A digital camera (with manual overrides)
A tripod
Warm clothing
A laptop computer (with power supply)
We also recommend the following:
Flashlight
Light gloves (or fingerless gloves)
Umbrella (or poncho in case of rain)
Zippered bag (large enough to place over camera while on tripod)
The cost for this workshop is $60. Reserve your spot today by calling Customer Service at (800) 778-3390.
Other 2012 Photography Workshops
Spring: April 21
An Introduction to portraiture
Portraiture with available light
Summer:  July 20–21
Photography basics
Shooting gardens and exhibits
Fall: October 13
Photographing Fall Color
Making your images all they can be with Photoshop