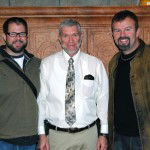 On November 5, the Christian band, Casting Crowns, will perform at the nearby Bank of Kentucky Center as a part of their "Come to the Well" tour.
Win Tickets!
We're giving away six packs of two tickets to the concert, and we're also giving away two tickets to the Creation Museum for each winner.
How to Win
Tell us your favorite Casting Crowns song and your favorite Creation Museum exhibit to enter. Leave your comments on our blog. (If you haven't yet been to the Creation Museum, tell us how you learned about us!)
We'll pick the winners by random drawing on Friday, October 7, 2011.
For information about the concert, visit the Casting Crowns website, castingcrowns.com.