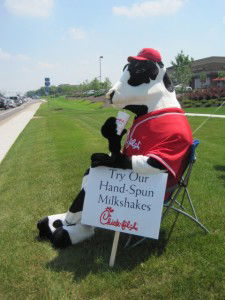 When the idea of having a 5K race at the Creation Museum was conceived, it wasn't our intention to have a "running of the cows" (or raptors, for that matter). Nevertheless, we are excited about welcoming the Chick-fil-A cow to this year's
Raptor Run
.
You've probably seen the celebrated cow on billboards, television commercials, or on your favorite quick-service restaurant bag. On Saturday morning (October 8), our bovine friend will be sporting a headband (and maybe a pom-pom) to cheer on the runners, walkers, and a few strollers.
We'd like to publicly thank our friends at Chick-fil-A for being a part of this fun event!
It's not too late!
Have you signed-up for the Raptor Run yet? You don't have to be a runner to enjoy an autumn morning stroll around the immediate area surrounding the Creation Museum. The Raptor Run is a great opportunity to get some exercise before your visit—walk, run, or shuffle! Your $35 registration includes admission to the museum, so be a part of the festivities. You'll even get a finisher's medal to remember the occasion!
Visit our Raptor Run webpage for more information!