Join us for the third annual Raptor Run 5K!

Growing in popularity, this year's event is scheduled for October 8, 2011.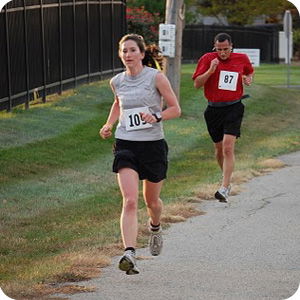 Whether you like to sprint or just walk toward the finish line, join us for the exciting Raptor Run 5K 2011. Come alone, with your family, or bring a group. Be prepared to meet fellow runners-and new friends. Young and old alike will have a great time participating in the Raptor Run 5K 2011.
The Raptor Run will take place on scenic roads among the rolling hills of Northern Kentucky. The course is set on closed streets around the Creation Museum, leaving and returning to the museum grounds.
Light refreshments will be available before and after the race. The top two finishers and winners of age divisions will be awarded prizes. Our age categories are: under 14, 15–18, 19–29, 30–39, 40–49, and 50 plus. All participants will receive a unique T-shirt and admission to the Creation Museum on the day of the race. Proceeds will benefit Answers in Genesis and the Creation Museum.
Register now! The fee is $25 if you register before September 9, 2011. Starting September 10, the registration fee is $35.
Visit the registration website and sign up early, then come and join us for the Raptor Run 5K 2011!