With the blessing of a new 1,000-seat auditorium, Legacy Hall, we are excited about being able to offer a venue where we can offer even more special events!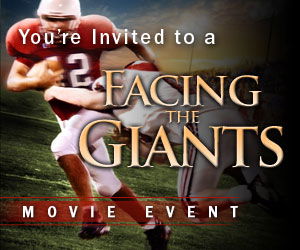 On Friday, September 9, we will be offering our first movie night at 7:00 PM. The movie,
Facing the Giants
, is a story about a losing coach with an underdog football team who faces their giants of fear and failure on and off the field.
In his six years of coaching, Grant Taylor has never had a winning season. Even the hope of a new season is squelched when the best player on his Shiloh Eagles team decides to transfer schools. After losing their first three games of the season, the coach discovers that a group of fathers are plotting to have him fired. Combined with pressures at home, Coach Taylor is quickly losing his battle against fear and failure.
However, an unexpected challenge helps him find a purpose bigger than just victories. Daring to trust God to do the impossible, Coach Taylor and the Eagles discover how faith plays out on the field… and off!
This event is free! Snacks will be available for purchase. For more information about this and other events at the Creation Museum, check out our online Events Calendar, or call Customer Service at (800) 778-3390.