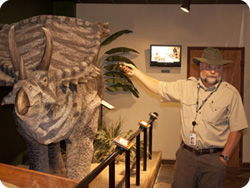 This Friday (August 19 at 4:30 PM), families can join join Buddy Davis on a guided tour of the Creation Museum as he shares his knowledge of dinosaurs. Of course, there's a lot that we don't know about dinosaurs—like skin color—because we've never seen a living one, and fossils don't come with tags. Buddy will explain that what we think we know about dinosaurs depends on our interpretation of "fossil facts" and our worldview.
He'll also tell you how he designs, forms, and finishes his dinosaur sculptures. This tour is fun for all ages as you learn about the Creation Museum dinosaurs "on tour" with Buddy Davis.
If you can't make it to the museum this week, future tours are scheduled for Fridays, September 9 and 16 or October 7 and 14 (all at 4:30 PM). For more information, call Customer Service at (800) 778-3390.
Caption This Photo
Here's one of Buddy's dinosaurs in our Dinosaur Den.