Ken Ham and Buddy Davis at the Creation Museum!
Over the last several weeks, the Creation Museum has presented even more new and exciting programs, exhibits, and promotions. Last week, we introduced Back to School Survival Days—including half-priced admission for students and accompanying adults.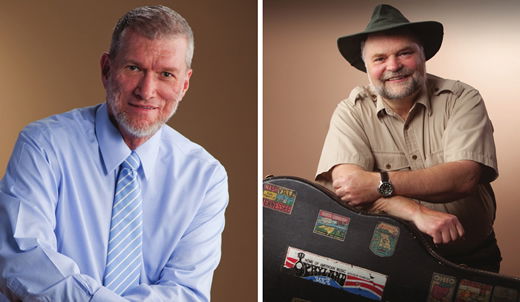 Now, we are pleased to announce that for five special days, two of Answers in Genesis' best-known personalities will be conducting special presentations throughout the day, including the following:
11 AM: Dinosaurs, Genesis, and the Gospel
Ken Ham and Buddy Davis give a clear presentation of the gospel through showing kids that God created animals, including dinosaurs, on Day 6 of Creation Week. Many dinosaur questions will be addressed, such as: Did dinosaurs roam the earth with Adam? Did T. rex dine on fruits and vegetables? How did dinosaurs fit on the Ark?
1:30 PM: Defending the Christian Faith Biblically and Scientifically
Ken Ham will teach guests to defend the Genesis account and the Christian faith by showing how observational science confirms that the Bible is true.
3 PM: Creation Musical Adventure
Join Buddy Davis for this fun sing-along concert for kids of all ages! Children and adults alike will enjoy Buddy's humor and catchy tunes!
4 PM: Meet Ken Ham and Buddy Davis
Get your photo with Ken and Buddy during this special "meet and greet" time!
Dates: Thursdays and Fridays, August 11–12, 25–26, and Monday, August 29 Location: Creation Museum, 2800 Bullittsburg Church Road, Petersburg, KY 41080 For more info: Call Customer Service: 800-778-3390