Creation Museum guests are getting their first looks at a newly enhanced exhibit in the hallway leading to the Special Effects Theater. Last year, the "Man vs. Ape" exhibit, featuring a human skeleton holding a Bible made its appearance near the museum's Main Hall.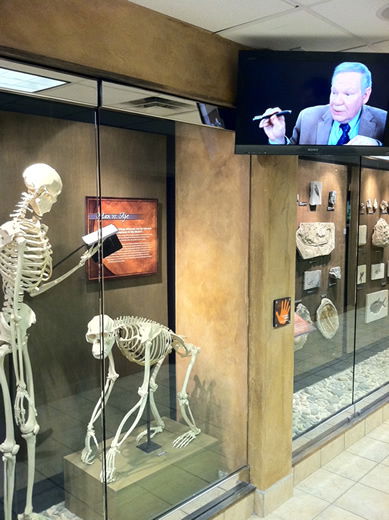 The exhibit presents the science of homology, which refers to features that are similar among different animals-especially bones or DNA. For example, you may have heard that chimp and human DNA are 95-99% similar, or that our skeletons closely resemble chimp skeletons.
The enhancement, which features a video of staff biologist Dr. David Menton above the exhibit, is a laser beam that highlights different aspects of the exhibit as he explains similarities between the skeletons in the display.
Here's a video clip of the exhibit.
We hope you'll be able to check out this and other new exhibits at the Creation Museum soon!
Caption the Photo
Today's "Caption the Photo" features Gomer the camel. He's relaxing before giving rides for museum guests.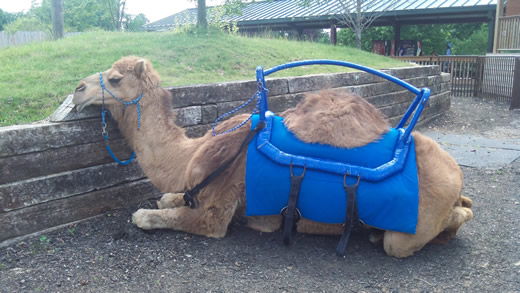 The museum staff has selected Peggy's quote as Thursday's winner for the picture of Trike holding a shovel. Peggy wrote, "I dig truth!"
Be sure to add your caption to this blog to be entered into the contest. Contest rules and details can be found on this past Monday's blog. On Monday, we'll announce the winner of the contest, which includes four tickets to the Creation Museum and other goodies from the Dragon Hall Bookstore!