Caption the Photo
While Buddy and the gang are digging for bones in Montana, today's "Caption the Photo" pic is of the skeleton in our "Man vs. Ape" exhibit in the hallway leading to the Special Effects Theater. We've enjoyed your creative comments so far!
Here's today's photo.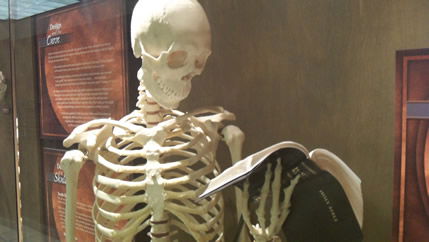 Museum staff decided the best caption to Monday's photo was submitted by Kevin J. His caption of the dinosaur holding two Coke bottles is, "A guy could go extinct trying to decide." Kevin has been entered into our random drawing for four Creation Museum tickets as well as some goodies from our Dragon Hall Bookstore. Check out Monday's blog for info about our "Caption the Photo" contest!
Dino Dig Update
Our own adventurer, Buddy Davis, is leading a group on a dinosaur bone dig this week in Glendive, Montana. Here are some updates from Buddy that he posted on his
Facebook page
earlier today.
This is our group of dinosaur diggers. We walk to the site about a mile away and this year we have two different sites. They are very excited to start digging for bones.

This shows some of the bones that were uncovered yesterday. The upper left is a chevron, the upper right is a large vertebra, the bottom left is a radius, and the bottom right is a toe bone digit that Kay [Buddy's wife] found. This is just a few of the finds from yesterday. It was a great day!

Last evening we had a good meal. Afterwards, I did a couple of songs and spoke on the Great Alaskan Dinosaur Adventure. Praise the Lord that the weather has been great with a breeze that would keep cooling us. We are planning on another good day of digging. God bless.
Thanks for checking in today! For the latest Creation Museum news, be sure to "like" our
Facebook page
and "follow" us on
Twitter
.