The members-only Father and Son Campout on April 1 was a big hit. Here some photos of the event:
We pitched our tents near a picturesque creek on the museum grounds.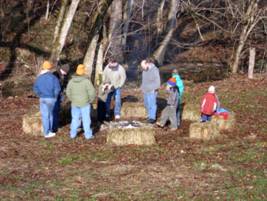 We built a campfire under a giant Sycamore—a great tree for climbing, as the kids quickly discovered.  This is also where Buddy Davis came to join us and share stories from his Great Alaskan Dinosaur Adventure.
We enjoyed a special visit to the Petting Zoo to learn about some of God's amazing creatures.
A great time was had by all.  Members-only events provide opportunities to learn more about God's creation, and to experience the museum in unique and fun ways.
Our next events coming up are the Family Fishing and Camping weekend, and the Mega Conference Fossil Hunt.  Spots are filling up quickly, so make your reservation today!  Also, be sure to take advantage of Dr. Menton's Life Science Tour.  These regular tours are a great way to take a closer look at the science behind the museum's exhibits.
Not a member yet?  Visit the members section of creationmuseum.org to learn more.