The benefits of a membership to the Creation Museum continue to abound with a great line-up of members-only events. Recently, Dr. David Menton took a group of members through the museum on the first Life Science Tour.
Members not only will enjoy interacting with Dr. Menton as they tour through the museum, but will be even more equipped with answers to our culture's questions about the authority of God's Word.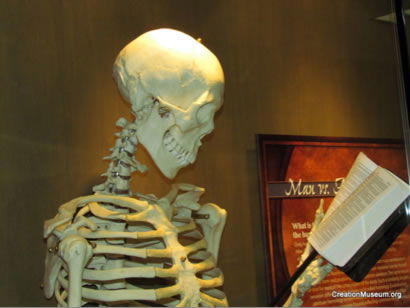 Upcoming dates are March 28, April 4, 11, 18, and 25. Be sure to "like" us on
Facebook
or "follow" us on
Twitter
, where we'll announce future tours.
Not a member? Visit the Members section of creationmuseum.org to find out about the cost and benefits of supporting the Creation Museum.
Upcoming Members-Only Events
Father and Son Campout (April 1–2)
An evening of fun and fellowship. We'll be camping in a wooded area on Creation Museum property. A special educational workshop will take place in the morning.
Family Fishing and Camping (June 4–5)
Our second annual fishing event at the Creation Museum. Set in the beautiful botanical gardens on our three-acre lake. New this year is the option to camp overnight. Special devotional service to follow on Sunday morning.
Mega Conference Fossil Hunt (July 23)
Open to museum members attending the Answers in Genesis Mega Conference 2011. Spend a day exploring the rich fossil beds at Caesar Creek Lake in Warren County, Ohio. Led by Answers in Genesis geologist Dr. Andrew Snelling.