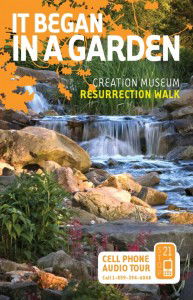 The spring bulbs have been planted, and our
Botanical Gardens
will soon be full of life and color. The changing of the season is a compelling reminder of the glorious resurrection of our Savior. To celebrate and reflect on this special time, we are re-introducing the popular
Resurrection Walk
audio tour.
The Resurrection Walk gives you and other Creation Museum guests an opportunity to listen to special messages throughout the gardens, where you will be encouraged to consider our Creator's handiwork and redemption that is offered to us through His Son. A special guide has also been prepared to assist you as you walk through the marvelous account of God's promise and fulfillment at the empty tomb.
A mobile version is also available for your smart phone. The text of each stop is available along with the audio by visiting http://myoncell.mobi/18593946048.
Be sure to download the guide from our website.
This tour is free (apart from any charges from your mobile phone provider for minutes used) and will be available from March 7 through April 30, 2011.
Our audio tours are updated seasonally, so visit often!