If you're in the Cincinnati area this morning, watch your step! This winter season has brought many beautiful days of snow. This morning, however, brought freezing rain. Temperatures are beginning to rise and we are ready for a great day at the Creation Museum.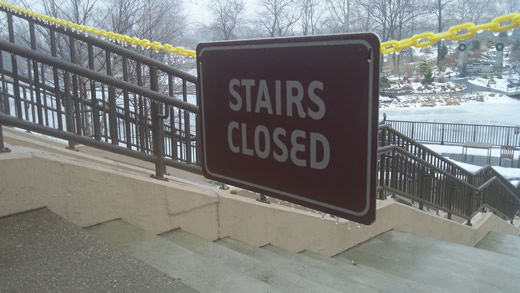 Here's what's happening today:
12PM: Dr. Terry Mortenson: "Is Genesis Relevant in Today's World?"
Dr. Terry Mortenson presents some of the Biblical, moral, and scientific reasons for the relevance of the book of Genesis in this practical and informative presentation. What is ultimately at stake at how we approach Genesis is how we view morality, the meaning of life, and the truth of the Gospel-and the trustworthiness and authority of the Bible.
2PM Dino-Mite Readers "A Grand Canyon Adventure" Starring Charlie & Trike
Children ages 3-8 are invited to join us as we explore the Grand Canyon with curious Charlie and his friend Trike. Come to Dino-Mite Readers and find out how Trike helps Charlie learn to trust his guide, Captain Wes as they discover how the Bible has the truth about history!
2:30PM "Evolution, Not a Chance" with Dr. David Menton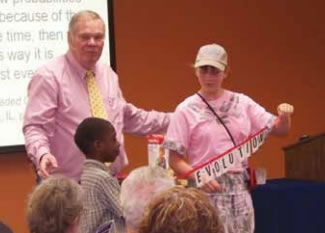 Evolution is bad science, but makes good magic! Using magical illusions, Dr. Menton illustrates the improbability of evolution. Biological systems leave little to chance. Instead, genetic information is precisely encoded in the DNA. You will see how to calculate the probability of the chance arrangement of amino acids required by evolution into biologically useful proteins. What are the odds that evolution happened? Not a chance! This workshop is sponsored by
Cedarville University
.
3PM "The Runner from Ravenshead" Special Film Presentation
Stay Up-to-Date:
To get Twitter updates on today's events, use hashtag: #CMTODAY
"Like" us on Facebook.
Winter Photography Workshop Photos
Over the next several days, we will be posting some of the photos from our recent Winter Photography Workshop. Check out our album on Picasa for more photos. Here's the first in our series: