Canoeing in the Swamp with Buddy Davis/April 2011
Are you ready for an adventure in a world apart from everyday life? Prepare to be swept away by the sights and sounds of a wilderness that is largely untouched by civilization.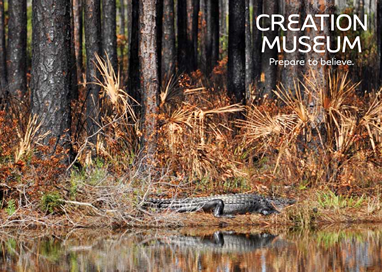 Wilderness Adventure
If you like to paddle and love adventure, this wilderness canoeing trip is for you! We plan to venture into the heart of the Okefenokee Swamp of Georgia for a 3-day, 25-mile paddling journey through reflective tea-colored water, passing through scenic prairies, shrub-lined waterways, and beautiful Spanish moss-laden cypress trees.
Along the way, we will see and hear plenty of wildlife-numerous lurking alligators, majestic wading birds, frogs, turtles, lizards, and other fascinating swamp residents. Your guides will be adventurer, paleo-artist, musician, and writer Buddy Davis and Creation Museum naturalist Perry McDorman, who has taken at least nine such wilderness canoeing trips in the Okefenokee.

On the first full day together, we will explore a wildlife drive, walk some short hiking trails, and take a guided motorboat tour in the Suwannee Canal Recreation Area. At the end of the day, Buddy will spin a yarn or two about his past wilderness adventures while we enjoy s'mores around the campfire. We will retire to our tents early because we will set out for the heart of the swamp early the next morning!
Okefenokee is a paddler's and photographer's paradise, with towering cypress trees, wading birds, water lilies, carnivorous plants, and wildlife galore. On clear nights, stargazing can be spectacular, as there are no interfering lights in the middle of the swamp.
At least one of the two nights in the beautiful 400,000-acre wilderness will be spent on a partially covered wooden shelter built over standing water. While facilities are limited (e.g., a port-a-john), the unique experience of sleeping in the swamp is well worth the lack of conveniences. The evening and morning sounds of the swamp-including owls, egrets, herons, frogs, and bellowing alligators-can help draw  your mind away from the distractions of everyday life and into a time for relaxation, reflection, and devotion.
Looking For a Tamer Adventure?
We also plan on offering a land-based experience that doesn't involve sleeping in the interior portions of the wilderness (our campsite will be on the outer perimeter of the swamp). This outing would be appropriate for families with younger children. We will hike some short trails, including one with a 50-ft. observation tower. We will also explore the wildlife drive and visitor's center, take a guided motorboat tour, do some day paddling, and maybe take a night paddling trip to see the eerie glowing eyes of the alligators in our flashlight beams (returning to land within a few hours).
Tentative start date: April 10, 2011 (to be confirmed in February)
Cost: $329 (does not include canoes or other equipment. Inquire about rentals if needed).
For more information, please email us at okefenokee@creationmuseum.org; or call (888) 582-4253, ext. 481. You may also register online for either the land-based trip or the wilderness trip.