After two successful dinosaur digs in 2010, we're looking forward to finding more bones and making more memories this year! The Foundation for Advancing Creation Truth will host our digs again, and we are very excited about working with Otis Kline and his team who orchestrated a fantastic experience for AiG last year!
Join musician, dinosaur sculptor, speaker, and adventurer Buddy Davis Blog in Glendive, Montana this July for the adventure of a lifetime!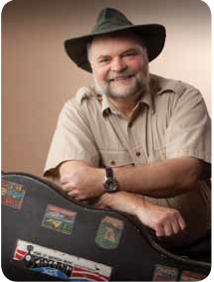 Quick Facts
When are the digs? Two dinosaur digs are planned: July 11-15 and July 25-29.
What will we do? The program will begin Monday afternoon and continue through Friday evening. You might want to spend the weekend before and/or after in some of the amazing places that are located within a day's drive of Glendive: Yellowstone National Park, Black Hills, and Glacier National Park, to name a few.
We'll spend the majority of each day out in the field, arriving back at the hotel in time for you to wash the dirt off and put on clean clothes, and maybe even take a quick nap, before dinner and our evening program. During the 2010 digs, we found dinosaur bones and teeth, turtle bones and shells, figs, petrified wood, and more. We also enjoyed various other adventures such as touring a new creation museum full of dinosaur skeletons, visiting Makoshika State Park, and "prospecting" for a new potential dig site on a huge ranch.
Buddy Davis will assist with the dig and provide exciting programs in the evenings for everyone on the dig team. Buddy has been on many dinosaur excavations, including one on the North Slope of Alaska. Buddy also sculpted the dinosaurs in the Creation Museum's Dinosaur Den.
Where will we stay? We recommend the Comfort Inn in Glendive because that's where we will have our meetings and pick ups and drop offs. But there are other hotels and a campground within walking distance to choose from. The dig site is about 5 miles from the hotel. You will be responsible for your own lodging.
How much does it cost? The 2011 Dinosaur Dig costs $925 ($835 for Creation Museum members).
What does the cost include? The fee covers transportation for dig activities while in Glendive, dig training, assistance and equipment, programs by Buddy Davis, and lunches and dinners. The Comfort Inn provides breakfast, so all of your meals will be taken care of while in Glendive if you stay there. You will be responsible for your lodging and your transportation to Glendive.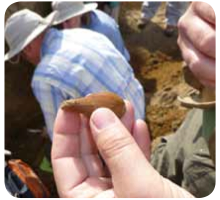 Who can go? Participants must be at least 12 years old at the time of the dig. Minors must be accompanied by a responsible adult. Pets are not permitted at the dig site.
Is the dig strenuous? It certainly can be. You should be in reasonably good shape to participate, but you don't have to be an athlete. It can get quite hot in eastern Montana in July. To reach the dig site, we have to hike uphill on a moderately strenuous trail that is not paved. We go back down the hill to the picnic shelter for lunch, then hike back up again for an afternoon of digging. Plenty of drinking water and sports drinks are provided, and we may alter the schedule if the weather calls for it, but we cannot guarantee your comfort. This is a real dig, and you will get a taste of what professional paleontologists and fossil hunters experience. By the time we head back for the hotel around 3 or 4 in the afternoon, we will all be happy to hit the showers and have some down time in the comfort of our hotel rooms!
How do I register? You can register online. A nonrefundable deposit of $125 is required to reserve your spot on the dig.
How can I get more information? To obtain more information about the dig, call (888) 582-4253, ext. 481.